People
John Bosso


John Bosso, PharmD, chair, Department of Clinical Pharmacy and Outcomes Sciences, was inducted into
the National Academies of Practice March 26. Elected members are practitioners and scholars who have achieved distinction while spending a significant portion or all of their careers in direct patient care.
Michelle Hudspeth


Michelle Hudspeth, M.D., division director of pediatric hematology oncology and director of pedicatric blood and marrow transplantation, received the Leukemia and Lymphoma Society's Partners in Progress Award in February. The award recognizes those in the medical, research and business worlds who have impacted its mission: to cure leukemia, lymphoma and Hodgkin's disease, and improve the quality of life of patients and their families.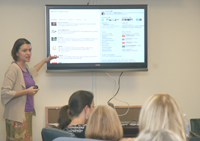 Public Relations public information coordinator Megan Fink explains how the social media platform, Twitter, works to a room full of employees in MUSC's first Twitter 101 workshop held March 24. Given the interest on the subject, another Twitter workshop will be held in May.


Events
Annual Rotary Wheels
The 21st Annual Rotary Wheels, sponsored by the Rotary Club, will begin at 7 a.m. April 29 at the Citadel Holliday Alumni Center, 69 Hagood Ave. The event will include a breakfast and live auction to benefit the Center for Drug and Alcohol Programs at MUSC. Guest speakers will be MUSC's Layton McCurdy, M.D., and Ken Burger of the Post and Courier. For information, contact Sylvia Rivers at 792-9531 or riverssy@musc.edu.

Disability Awareness Walk
Family Connection, a support network for families who have children with special needs, is hosting the annual Disability Awareness Walk and Festival May 14 at Hampton Park. Registration begins at 9 a.m. and the walk starts at 10 a.m. The event will include music, pony rides, refreshments, a jump castle and informational vendors. There is no fee to walk, but event T-shirts are $10 a piece. Call 556-5010 or visit http://www.familyconnectionsc.org.
StaffPicks
WebLink
Check out the new website by MUSC's Hollings Cancer Center (HCC) at http://hcc.musc.edu/index.htm. Vicky Agnew, director of strategic communications, said the new website allows HCC to feature important people, late-breaking news and the latest clinical trials.

"Given our dual missions of treating patients and conducting research, our site has to meet the needs of several audiences – patients, physicians at MUSC and elsewhere, and our researchers and outside collaborators, and donors. Our goal was to ensure the site is easy to navigate while being warm and welcoming. We hope we've succeeded."
GreatRead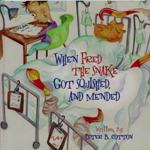 "When Fred the Snake Got Squished and Mended" by Peter Cotton, M.D., MUSC professor, Gastroenterology & Hepatology, describes how Fred, the snake, was mended back together after he was run over by an ambulance. To sew the two halves back together, a doctor required a special jungle thread that Jungle Jim was able to get from underneath a rhino. Copies, $5, are available from Rita Oden at 876-7226 or odenr@musc.edu.
Reviewer: Elaine Rawls, R.N.,
Digestive Disease Center

BlogRoll
Want to know the best way to improve core strength? Check out the MUSC Health's Women Speak - straight talk about women and infant health blog at http://blogs.musc.edu/womenspeak/. You can check out the latest installment in the booty camp series, complete with instructional photos and advice.