By Ana Corberan
Biostatistics & Epidemiology
The origin of the Spanish health system dates back to the dictatorship of Francisco Franco, who ruled the country after the Spanish Civil War.

In the late 1930s, Franco's government created a social security system in order to manage a national mandatory sickness program.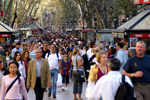 La Rambla, a street in central Barcelona, is popular with tourist and locals alike. Spain has a population of approximately 46 million.

Initially created to cover industrial and manual workers, the system in 1975 encompassed 85 percent of the population. After Franco's death in 1975, the Spanish Constitution of 1978 required the creation of a universal, general, and free national health system with guaranteed equal access for all Spanish citizens.

To date, Spain still holds a national health care system that is financed by funds raised through general taxation. It provides all Spanish residents with universal coverage with no out-of-pocket expenses, regardless of their economic or employment situation. Spanish patients cannot choose their physicians, but rather they are assigned a primary care doctor from a list of physicians in their community. If more specialized care is needed, the primary care physician refers patients to a network of specialists.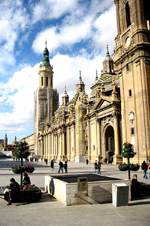 The Plaza Pilar in Zaragoza, Spain, hosted Expo 2008 in the summer of 2008, a World's Fair on water and sustainable development. It will host another fair in 2014, the Flowers Expo, and it is a candidate to be European Capital of Culture in 2016. Zaragoza wants to be a candidate city for the Winter Olympic Games 2022. The project is similar to Torino 2006 and Vancouver 2010.

Because the system is based on universal health care, non-residents and tourists (and even people living in the country illegally) are never denied treatment. Health expenditure in Spain has followed the upwards international trend. As a percentage of the gross domestic product, the total health care expenditure in Spain is 8.5 percent.

While the Spanish health care system is ranked seventh best in the world by the World Health Organization, it also has its flaws. Most people in Spain who can afford to purchase private health care, choose this option. This preference is not caused by a lack of coverage of the public system, but it is mainly due to the long waiting periods that patients usually have to face. About 12 percent of the population currently has private health insurance.
Facts about Spain
Madrid, Spain's capital city, is located in the exact center of the country.

The Spanish political system is organized as a democracy with a parliamentary government under a constitutional monarchy.

People in Spain have a life expectancy of 81.1 years.

The fertility rate is one of the lowest in the European Union, 1.4 children per woman.

Seventy-three percent of Spaniards are Catholics.

Elementary education is free and compulsory from the age of 6 to 16.

The major industry in Spain is tourism; its beaches, gastronomy and festivities are internationally recognized.
Editor's note: The Global Health page focuses on raising awareness of international health issues through an academic venue with the purpose of improving the quality of care for patients. E-mail globalhealthnews@musc.edu.