By Dawn Brazell
Public Relations

Not many bartenders would want the job at MUSC's Human Bar Laboratory. The tips are lousy, actually non-existent, and there's only one customer at a time.

Mark Ghent, however, likes the job in the Center for Drug and Alcohol Programs' (CDAP) bar laboratory where he serves as program coordinator. It's all for a good cause in the name of ongoing research into the rapidly changing field of alcohol addiction and treatment.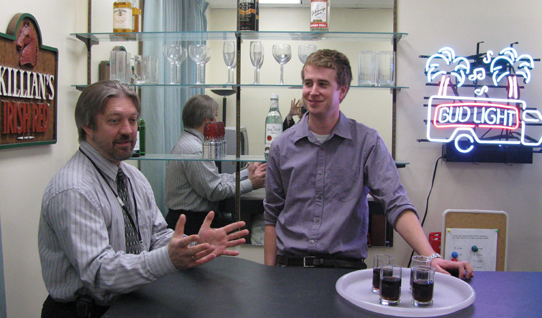 Dr. Konstantin Voronin, left, and Mark Ghent discuss how studies are set up in the MUSC's Human Bar Laboratory.

The cornerstone of CDAP is the Charleston Alcohol Research Center, one of only 15 such centers nationally that is funded by the National Institutes of Health (NIH).

Tucked away within MUSC's Institute of Psychiatry is a tiny room that houses the Human Bar Laboratory. 'Customers' visiting the bar get to hang out for a whole day in the mirrored, neon setting. Here, customers get a $16 bar credit, which if not spent, gets added to the $300 to $360 they will be receiving for participating in this particular clinical research study.

Not the best business practice of a successful bar but it is the perfect setting for a lab that seeks to shed light on how to better customize alcohol treatment based on a person's characteristics and genetics. The current customers have been screened for alcohol dependence and impulsivity and provide blood for DNA analysis.

Konstantin E. Voronin, M.D., Ph.D., and a research assistant professor in the Department of Psychiatry and Behavioral Sciences, said the bar laboratory is an important tool to assess the effectiveness of medications that earlier studies suggest may be effective in reducing alcohol craving in humans.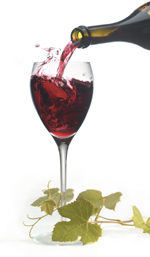 Although red wine isn't served in MUSC's Human Bar Laboratory, it is the drink of choice for many. Visit http://www.alcoholanddrugabuse.org for the latest on facts about research and prevention.
The current eight-day study: Impulsivity and drinking/craving: effect of a dopamine stabilizer medication, also includes fMRI or functional magnetic resonance imaging. By taking pictures of brain activity associated with alcohol taste and picture induced craving, this part of the study examines how the medication aripiprazole might affect the activity and thereby its potential for reducing alcohol cravings.

The bar- lab enables researchers to quickly translate any promising results in animal studies into clinical trials to benefit people. CDAP Director Raymond F. Anton, M.D., a Distinguished University Professor in the Department of Psychiatry, said the center has been doing translational research for 15 years, long before it became the buzz word in medical research circles.

It's one reason CDAP's alcohol research center recently received its fourth NIH renewal for a five-year grant, receiving $1.6 million per year from 2011-2016 from the National Institute of Alcohol Abuse and Alcoholism. CDAP also was named in the 2011 U.S. News and World Report as one of the top ten best graduate addiction programs.


Dr. Raymnd Anton

Anton said it's an exciting time to be in the field.

"It's really high-level science. It's like competing in the Olympics. We're competing against the best people in the country for funding of the work that we do. We have to impress our scientific colleagues that our work is novel, exciting and scientifically important, and they are very discriminating judges."

Personalized Medicine
One focus for the next five years is what causes people to evolve from being social drinkers to becoming alcohol dependent. Researchers are studying brain neurochemicals at various stages of the development of dependence to see how they might change. "These are the same chemicals like dopamine that drugs such as aripiprazole would work on, so it's all tied together—the drinking behavior, the brain chemistry and the pharmacology to reverse the alcohol-induced changes," Anton said.

Researchers use brain imaging as a tool to see how genes may predict a person's response to alcohol and medication treatment, such as MUSC's clinical trial on the medication Naltrexone that blocks an opiate receptor in the brain and was found to be very effective for about 20 to 25 percent of alcoholics, he said.

"If people have a certain genetic propensity—it really comes down to just one nucleic acid being different in an opiate gene that's called a SNP or a single nucleotide polymorphism—there's actually evidence they are more sensitive to the endorphin effects of alcohol. We think that these might be the people who respond to Naltrexone better because it blocks the endorphin from binding to that receptor and they might get less pleasure from alcohol and less craving."
Interestingly, 25 percent of Caucasians have that SNP or polymorphism, he said.

"Not every alcoholic is like every other alcoholic. Some might have this opiate gene problem. Another person might have dopamine gene problems. Another person may have impulsivity. Another person might have social anxiety. The idea is to try to slice the reasons why people drink into smaller groups so we can direct our treatment more specifically to the exact reasons why people are drinking."

This is a form of personalized medicine that is being applied to alcohol dependence. Two other areas of interest are the impact of having social anxiety or childhood trauma and what that connection might be in the development of alcohol dependency. Researchers want to know if they can treat a person's social anxiety to relieve the stress that may lead these people to become alcohol dependent and explore the genetic risk and gene changes that happen in the brains of people who have had childhood trauma that may influence the development of alcoholism later in life, he said.

"Does alcohol provide more of a stress reduction effect for those people? If we can make that link, then it could become very important in evaluating people for their history of trauma and stress responsivity. You might want to treat them completely different. You might want to put them on an anti-depressant— something to stabilize their serontonin system—which we know is affected by early childhood trauma."

Since April is alcohol awareness month, Anton wants to spread the message of the role of alcohol—both good and bad—in people's lives.

"Not all alcohol is bad. It has some positive health

consequences when used in moderation. But for those particularly at risk because they have a different biology or family genetic structure, it can become excessively bad pretty quickly."

Timely Treatment
One goal of CDAP is to raise awareness about research advances, in part to shorten the typical 10-20-year lag time that exists between when people meet the criteria for alcohol dependence and when they seek treatment. During that time period, the brain gets changed quite a bit to the point that it's much more resistant to treatment. Because alcohol is a legal drug, the issue can get overlooked, said Anton.

"There's much more health care dollars and social costs to heavy alcohol use than cocaine or heroin. "

Alcohol plays a role in a considerable number of other diseases—including increased risk for heart disease and stroke, some cancers and high blood pressure. Even depression and anxiety might be rooted in excessive alcohol use. He and other scientists give community talks, including ones at area schools, to teach the public about safe amounts of consumption and to encourage early treatment for those who suspect they drink too much or may be becoming dependant.

For ethical reasons, researchers have designed the clinical studies in the human bar lab to accept non-treatment seeking individuals who meet the criteria for alcohol dependence. Voronin said they wouldn't want to serve drinks to individuals interested in receiving treatment since that could impede their progress.

For someone who has no interest in getting treatment, though, the human bar lab lets researchers do valuable research and raise awareness. He does motivation enhancement therapy at the end of the eight-day study to let participants know just how much they drink, how it compares to national rates and, projected out, what that means for their health.

"Many of them are surprised about it, and they start to think about it," he said.

Voronin said it's an important chance to plant a seed, and they let them know the myriad of treatment options that now exist. The older participants sometimes have gotten to a point where they can see how alcohol is interfering with their lives—whether at home, work or socially—and affecting their health.

"If they feel this way, they need to do something as soon as they can because it gets harder later. We don't push them, but we open all the doors."
How Much is Enough?
Unhealthy drinking is more than four drinks in one setting or 14 drinks in one week for men and more than three drinks in one setting or seven drinks in one week for women.
For an online screening, visit http://www.muschealth.com/cdap/. For a speaker on the latest research, call Sylvia Rivers at 792-9531 or e-mail riverssy@musc.edu.