Available this week in the Apple App Store, Explore MUSC is an app to reach prospective students who eagerly embrace the emerging technology of the iPhone and iPad.

The free application is designed to provide prospective and newly arriving students with descriptions, images, maps and details about the campus, colleges, and services. All of this information and more can be downloaded to an iPhone, iPad, or iPod Touch.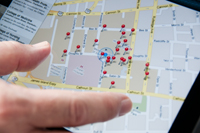 A screen shot shows a student locating MUSC on his iPad through Explore MUSC.

Larry Owens, director of communications for the Division of Education and Student Life, said the app makes perfect sense in an academic setting where technology and science are integral parts of the learning process. "It seemed logical to present prospective students with a self-guided tour in a convenient handheld device," he said.

Users can receive information through narratives and more than 100 images in the app. Components include information about the six colleges and their programs of study, a listing of services provided by Education and Student Life and the Library, as well as a description of the historic buildings on campus. The user interface takes advantage of the gesture movements that iPad and iPhone users employ.

College of Dental Medicine (CDM) student Brett Shigley developed his college's portion of Explore MUSC, complete with CDM students conducting video tours through buildings and labs.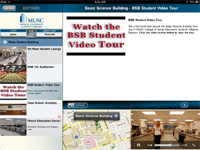 Brett Shigley developed his college's portion of Explore MUSC, complete with students conducting video tours.

"Students expect their educational experience to be up-to-date technologically, and MUSC is one of the first medical campuses nationwide to offer this type of unique look into our wonderful campus," said Shigley. "By allowing current students to help produce video tours and content, the College of Dental Medicine part of the app is able to offer prospective students and guests not only a chance to see the sights and sounds of campus but also get a better feeling of what it's actually like to live and learn at MUSC as a student."

Much like a website, Explore MUSC is continuing to evolve.

Geoff Freeman, executive director of educational technology services and one of the project leaders, said there will be continued development within this application for some time. "Each of the colleges is working on developing a unique piece of the application, but we felt it was important to get the application in the hands of prospective students as quickly as we could."

Websites can be opened within the application to allow more detailed information for the user without having to exit the application.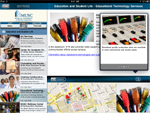 Owens likes that the application can conveniently be carried anywhere on campus, as that opens up new possibilities to consider. "For example, maps are available that interact with the user by showing pinpoints identifying buildings and a locator point that tracks the device in real time functioning much like a chart plotter used on a boat," he said. "These types of global positioning (GPS) tools make it much easier for first time visitors to find their way around. We've even added the location of bike racks to make it convenient to get from one location to another."

Explore MUSC has been produced in partnership with Slicker Interactive, an interactive software development company based in Charleston. Chris Metts, a College of Medicine alumnus, provided the concept and programming to develop the capabilities of the application. Slicker has provided tools for the development of apps for colleges and cities nationally and internationally.

Metts said the iPad and iPhone were the digital devices he wished for as a medical student and resident. "I believe the combination of its form factor, intuitiveness, power and ecosystem will transform all aspects of medicine, starting the moment an individual decides to pursue a career in medicine. We are fortunate MUSC has chosen our platform to reach out to prospective students and has chosen to innovate in this exciting mobile arena."

Slicker is working with the City of Charleston to develop applications to enhance the visitor experience in Charleston, including kiosks and information on downtown shuttle buses. This application is currently available only for the iPad, iPhone, and iPod Touch, but will eventually expand to the Android and BlackBerry platforms.