The health care needs of the Hispanic and African-American communities will be better served thanks to the efforts of the 2011 Earl B. Higgins Award recipients.

Carolyn Jenkins, Ph.D., College of Nursing professor, and Kelly Lambright, fourth-year College of Medicine student, received their awards April 6.

Lavalle Higgins, widow of Dr. Earl B. Higgins, welcomed Jenkins and Lambright as "MUSC's newest angels" at the award ceremony. She believes both share a commitment to helping the underserved through compassion and dedication, which is truly admirable.

Carolyn Jenkins
Jenkins has dedicated more than 30 years to improving health care among African-American communities. Her focus is on improving care for high-risk diabetes patients. She has written more than 25 publications in peer-reviewed journals and books on this topic. Jenkins also has actively recruited minority students into health professional education programs.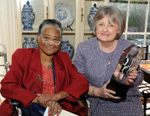 Lavalle Higgins, left, welcomes Dr. Carolyn Jenkins as an Earl B. Higgins Award recipient.

The REACH program is another accomplishment of Jenkins. This is the only center focused on reducing disparities for African-Americans with diabetes in the nation that is funded by the Centers for Disease Control and Prevention.

Kelly Lambright
The student recipient, Kelly Lambright, contributed her time to advancing health care in the Hispanic communities. She has participated in the Alliance for Hispanic Health (AHH) for all four years of her studies. Lambright has learned Spanish to better serve these communities. She then used these abilities to volunteer in interpreter services at the hospital and participate in several health fairs.


Kelly Lambright

The ultimate goal for Lambright's involvement in AHH was to collect research data assessing the health needs of the Charleston Hispanic community in hopes it could be better served in the future.

Not only did Lambright volunteer in the local community, she also served internationally through work she has done in the Dominican Republic, Ecuador, El Salvador and Honduras.