By Dawn Brazell
Public Relations

Avri Beeri knows his research.

He can tell you everything there is to know about Alzheimer's disease—about the myriad of clinical trials, the vitamins and supplements thought to slow the process, and how he helped his wife to be part of an elite group of only 50 people who will be in Phase 2 of the CERE-110 clinical trial. He can tell you what it's like to live with a spouse who suffers from a disease that requires him to be watching with "10 eyes all the time what is going on."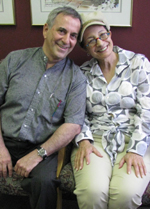 Avri and Dvora Beeri

He smiles lovingly at Dvora, his wife of 44 years, who has returned to MUSC for a check up following her brain surgery March 29, where she may have received gene therapy as MUSC's first patient to enroll in the trial. Their hope is that this therapy will stop and possibly even improve her condition.

Sporting a new cap to cover her closely-cropped hair, Dvora smiles at her husband. "I just need to remember," she said of her decision to enter in a double-blind clinical study that required her to have a portion of her head shaved for a treatment she may or may not have received when she underwent surgery.

Beeri nods at his wife's response. He needs to know he did everything he could to help her do just that.

He's the memory keeper for both of them now. Beeri met his wife when he went to take music lessons from her brother. "He invited me to come home with him, saying 'I will teach you some lessons.' I never learned how to play the guitar, but I learned her," he said, smiling.

Beeri found out his wife had Alzheimer's disease four years ago, when his life researching the disease began. He reads everything he can trying to find out what can break the cycle and stop the disease. "I'm constantly Googling all over the world to find out what study she could go on."

When he ran across the nerve growth factor research, he knew he wanted to get her into a study. On a wait list at Duke University, the couple decided to move forward with doing the clinical trial at MUSC, where they had participated in a previous study.

"I was following it very closely to see where it was going to be, and when I found out it was going to be here, I thought, 'Good, I know these people.'"

Beeri said they've been to MUSC so much, his car comes on auto-pilot now. The decision to participate in the trial was simple for him, but not as much for Dvora. "She was the one who had to be drilled," he said of the holes that surgeons have to make for the patient to receive the gene therapy. "I told her, 'If I were the one who had it, I would do it.' If anything could stop it, it's worth trying it even with all the pain."

Consulting with their internist in Charlotte, Beeri said he was relieved it took the doctor 10 seconds to advise to do it. "We talked to him together. He said he would do it for himself."

Dealing with the disease takes patience. He advises other caregivers to know how fast the research changes and how much more there is to know about how to help those who suffer from the disease. If his wife had the "sham" surgery, he wants her to get the gene therapy should the trial show promising results.

Beeri knows it might not work, but still thinks it was worth doing.

"It will help for the future, even if it doesn't help us right now."