Seeing pictures of herself plastered on the backs of buses or on life-sized posters in the lobby at Hollings Cancer Center takes some getting used to.

Ann Ramsdell recalls coming into the Hollings Cancer Center (HCC) lobby with her son, Griffin, who got excited when he saw the poster. "He asked, 'Mommy, when we took that picture, did it help you feel better? Did it help you not be so sick?'"

She told him yes, in more ways than he could know.

If the images lead to just one person enrolling in a clinical trial, it's worth it to researcher Ramsdell, Ph.D. The developmental biology scientist and associate professor who works at HCC is one of many patients who are allowing their stories and pictures to be used as part of a campaign to raise awareness of the importance of clinical trials.

Ramsdell, who was diagnosed in June 2009 with stage 3 breast cancer, said her diagnosis shocked her. She was training for a marathon, ate well and had no history of breast cancer. "I did everything right. I was not a person who was supposed to get cancer."

Yet, the diagnosis. Life goes like that sometimes.

Ramsdell absorbed the shock, her mind racing to her two boys, ages 3 and 5 at the time. "The very first thing I said was 'Oh, my God, my children—my boys,' and then the second thing I thought was how do I do cancer without needles? I hate needles."

Researching clinical trials before she even met with her doctor, she knew she would be enrolling in one because they offer access to the latest treatments and medications.

"I wanted whatever would be the most aggressive form of treatment. Secondly, as a scientist, I think there is great value in participating in clinical trials, not only for oneself but for future generations of patients. I truly believe that. Being scientists, we run experiments every day. Here was an opportunity to do so on a whole different level. It was an opportunity to give back."

Many patients fail to realize that all participants in a clinical trial receive the highest standard of care that would be delivered to any patient. The only difference is that they may also be getting another layer of care, such as a drug or technique, she said.

She enrolled in a trial and proceeded with her treatment, which included chemotherapy, surgery, radiation, physical therapy and medication. One part of her treatment at HCC that she found beneficial was working with a neurobehavioral oncologist.

"Having someone capable of talking to me about these life issues is huge. I'm a scientist. I can push him on the numbers. We can have some very direct conversations. Some patients don't want to know, but I do."

Getting through treatment was one of the hardest things she's had to do, but everyone from a volunteer with the snack cart to members of her oncology team kept her from staying stuck in what can become a dark, depressing time, she said. "I have a dream team. There's a lot of compassion here. There were days when I could barely get myself here, but there was the power of a smile or someone calling me by my name or asking about my children."

During treatment, she unexpectedly found a new calling.

Having five-hour days to spend in an infusion suite gave her time to research breast cancer. For the past 15 years, her research has focused on embryonic heart development and congenital heart defects, but what she found in her reading was that many genes involved in heart development also are associated with breast cancer.

Her excitement grew as she started making more connections, developing a research plan that received grant funding from the National Institutes of Health this month. It's engaging to switch gears, she said. "When you bring people into a field that's new, it can bring fresh insights."

Her collaborative project with Demetri Spyropoulos, Ph.D., will investigate whether these genes are deregulated during mammary gland formation and if so, whether this elevates the risk for developing breast cancer later in life. In collaboration with Joan E. Cunningham, Ph.D., the work will extend into population-based studies of breast cancer patients.

Ramsdell said she had no idea how long and extensive her recovery would be. She's finally back to going for her runs and working out with a personal trainer. She's grateful for the insights she's gained through her battle with cancer and the way her life has changed for the better. She's done a reassessment of her life on all levels of what's important to her, including her research, she said.

"I'm happier now. I'm more conscious of what stays and what goes—what's really important. If my children want to linger five minutes more over pancakes, then we do."

She's glad her experience can be a part of HCC's campaign to raise awareness on the importance of clinical trials. "It takes education. If people really understood that the benefits are really high—the potential is really there for a better form of treatment, then people would have more incentive to participate."

Ramsdell said it never occurred to her to not be in a clinical trial.

"It's a matter of preserving my life. As a mother with young children, I have that responsibility to go after the most aggressive treatment possible. I'm not private about my diagnosis or my treatment experience. Part of that is that I want people to understand about clinical trials. I hope I'm helping others."
Top Three Tips
The top three tips Ramsdell wishes people knew about clinical trials.
1. Patients are very carefully monitored and get the best standard of care that any patient would. Being on a clinical trial would not prevent that.
2. Get enrolled in a trial early. "If I had started elsewhere instead of Hollings Cancer Center and gotten referred, the prior treatment may have made me ineligible for a trial."
3. Don't be afraid to ask questions and research what clinical trials may be available. Be active in your health care. "Ultimately the decision-making power lies with the patient. We live in a different era now. All the resources are there to take charge and participate in your care."
---
By Dawn Brazell
Public Relations
Patients come and go, but there are those who leave that indelible imprint. One of those for Robert K. Stuart, M.D., was his first cancer patient—a teenager with advanced Hodgkin lymphoma. He met him on the first day of his oncology fellowship in 1976. Stuart's faculty supervisor thought the case hopeless.

Stuart, too young to know better, thought otherwise, and opted to treat him on a clinical trial.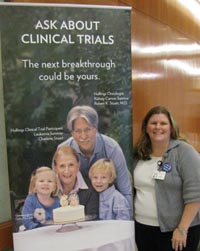 Terri Matson stands beside a HCC campaign poster featuring Dr. Robert K. Stuart and his family.
"Not only did he survive, he eventually invited me to his wedding," he said. "I had no hesitation in recommending a clinical trial for my wife when she needed one." The only reason he didn't volunteer for a clinical trial when he had kidney cancer was there were none at the time.

Times have changed.

Hollings Cancer Center (HCC) wants to make sure everyone knows that through a clinical trials awareness campaign aimed at getting more patients campuswide involved in clinical trials. HCC is striving for Comprehensive Cancer Center status with the National Cancer Institute, the highest distinction that a cancer center can receive with only 40 centers in the nation having achieved it. One way to achieve it is to have at least 15 percent of patients enrolled in a clinical trial. HCC has just passed the 12 percent mark.

The campaign's motto: "The next breakthrough could be yours." Stuart, HCC medical director of clinical trials, said the campaign isn't just for HCC, but for all departments in the hospital.

"Frankly, we need more physician involvement. We need M.D.s who are not satisfied with the status quo, who believe in trials as the only way to improve outcomes, who get involved enough to find the best trials, and who are willing to recommend—not just offer—trials to their patients."

Greater knowledge of the human genome has uncovered a huge number of potential "targets" for cancer therapy. This means the need for clinical trials and the potential for meaningful improvements in treatment have never been greater, another reason he feels so passionate about HCC's campaign, he said.

"Clinical trials are the only way to advance new ideas and discoveries from the laboratory to the clinic. I have personally seen lives saved by participation in clinical trials. Today cancer patients in North America have a two-thirds chance of surviving their cancer; in the 1970s, it was only a one-half chance. How do you think that happened?"
Terri Matson, director for research administration at HCC, knows how it happens.

"We're definitely going in the right direction," said Matson, who is helping to spearhead the awareness campaign that is targeted to faculty, staff and patients. "Discoveries only can come about because of clinical trials."

Common Misconceptions
Matson hopes the campaign will correct some misconceptions that keep patients from participating. Some patients fear they won't be getting the "real" treatment that could save their lives. "This couldn't be further from the truth, since all patients get the same standard of care. Being in a clinical trial wouldn't prevent that. What it could do is shed light on what tomorrow's standard of care will be," she said.

Matson said what many people fail to realize is that participation in a trial actually gives them an added layer of security.

"There's another level of monitoring."

There's an altruistic side of participating in trials in that some patients feel they might benefit the next generation. Of course, patients with life-threatening illnesses hope they have landed a trial that offers clues to a cure or better treatment, she said. Sometimes that doesn't happen, but it's part of the process.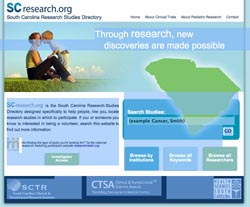 The following websites offer important information about clinical trials: http://scresearch.org/; http://hcc.musc.edu/clinicaltrials; and http://clinicaltrials.gov/ct/gui.
At HCC, about 12 percent of all patients or about 270 a year enroll in trials. At any given time, there will be more than 1,200 patients involved in various trials, covering a wide range of objectives.

The campaign features life-size posters and flyers in lobbies and waiting areas. Though the patients featured are cancer survivors, the campaign is to raise awareness in all specialties of the value of clinical trials, she said. Staff members are wearing buttons and have been trained in how to field questions.

"This campaign affects every single faculty and staff member here. We want patients to feel comfortable asking about clinical trials and physicians to feel motivated to get their patients enrolled."

More patient enrollment translates to better research and bodes well for faster development in the field of personalized medicine, she said. "That's where the future of health care is going. Patients are going to respond differently because we have different genetics."

Her advice to patients and medical professionals is to ask questions and become aware of the latest ongoing trials in their area of interest. There can be different types of trials, such as treatment or screening, and different phases that they can be in.

One tip she has for newly-diagnosed patients is to seek out an academic medical center for a second opinion and ask about the availability of clinical trials before seeking treatment.

"Patients should evaluate all their options."

Pediatric Role Model
An area that has had the most success in getting patients enrolled is pediatrics. Historically, pediatric cancer clinical trials have been a model in that nationally 80 percent of eligible children enroll. At MUSC's Children's Hospital, it's 85 percent, according to Michelle Hudspeth, M.D., director of pediatric blood and marrow transplantation and division director of pediatric hematology/oncology.

Offering high-quality clinical trials is an inherent part of pediatric oncology. The dramatic improvements during the last 30 years in the cure rates of childhood cancer are directly linked to clinical trials, she said.

"When faced with a newly-diagnosed cancer patient, pediatric oncologists instinctively ask, 'What clinical trials are available for my patient?' We are all aware of the tremendous legacy of clinical trials in our field and are eager to hopefully have our generation of patients become part of the next breakthrough in treatment."

Hudspeth said parents need to understand the amount of planning and monitoring that is involved. She typically takes the time to explain to families the level of intense scientific scrutiny that has happened on a national level in the development of the cooperative Children's Oncology Group trials.

"I also make sure they understand that trials have stopping rules and undergo frequent review by data monitoring and safety boards. For instance, if there is a clear benefit to a particular treatment or an unacceptable rate of toxicities occurs, the trial is stopped, and we are immediately notified. Because childhood cancer is overall rare, significant advances in treatment can only occur through involvement in cooperative group trials."

For enrollment in clinical trials to happen, physicians have to be willing to make the time to do the education required, she said. In her area, families are understandably in shock when their child is diagnosed with cancer.

"We have a tremendous responsibility to make sure patients and families understand what clinical trials are, how the therapy may differ from standard of care and that participation is truly their choice. Physicians need to be able to have the time to spend with families to explain the process and their options."

She hopes future efforts for clinical trial enrollment will look at novel ways of educating patients and families about clinical trials, such as better utilizing technology to share information and help families make complex decisions.
Stuart agrees, and hopes patients realize the need to be proactive. While it's the role of doctor and investigator to evaluate trials and determine their quality, feasibility and appropriateness for the patient population, it may be the patient who is most motivated to start the discussion, he said.

"We encourage patients to educate themselves about clinical trials, ask whether they are eligible for a trial and seek a recommendation from their physician. I have concluded that the best way to motivate physicians to become involved in trials is for their patients to ask about them. That's why we are doing this awareness campaign."