By Cindy Abole
Public Relations
A month ago, Lisa Miles struggled to do simple chores around her country home in Cordova, just miles outside of Orangeburg. Years earlier when Miles underwent a successful double bypass heart surgery at MUSC she entrusted the physicians and staff for her specialized care. Recently, Miles returned to MUSC to help manage other medical complications and was guided to the care of physicians at Ashley River Tower's new Vascular Interventional Radiology (VIR) outpatient clinic.

The VIR clinic was established to provide quality comprehensive medical care and expertise in a visible and accessible location for patients. The weekly clinic, located in the same first-floor clinical area shared by cardiology, vascular and gastrointestinal surgery, opened its doors last November. Since 1993, the division established themselves by performing about 1,300 minimally-invasive procedures. Today, thanks to advances in technology and patient outcomes, that number has almost quadrupled to more than 7,500 specialty procedures in 2009.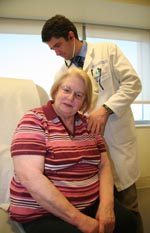 VIR clinic physician Dr. Marcelo Guimaraes checks the lungs of patient Gail Kemp.

Marcelo Guimaraes, M.D., assistant professor of vascular and interventional radiology in MUSC's Heart & Vascular Center, said that the VIR clinic is a dedicated clinic focused on patient care services while working collaboratively with referring primary care physicians and other medical specialists.

"The new clinic is dedicated to accommodating patients for both pre-and-post operative procedures and for the screening of patients with peripheral arterial disease. We're focused on patient education, prevention and early management of peripheral vascular disease which is highly prevalent in South Carolina," he said.

The VIR clinic also enhances and increases the level of quality service and patient care that we strive to provide our patients, he said. Medical innovation and the development of minimally-invasive procedures guided by imaging under the Division of Interventional Radiology has been present at MUSC since the 1990s. It was vascular and interventional radiologists who pioneered balloon angioplasty and stent placement to treat peripheral arterial disease. The VIR team has since worked in collaboration with vascular, cardiothoracic surgery and cardiology in this field.

Traditionally, interventional radiologists were regarded as procedure-operator specialists based solely in dedicated suites and units under the Department of Radiology's Vascular and Interventional Radiology Division. Later, their expertise evolved and they became more available for specialty consults for procedure planning in a patient's team approach to care. But the practice and need for more patients to be treated using non-surgical, low-risk procedures continue to grow, according to Guimaraes. The MUSC Interventional Radiology team knew they needed to plan how to best accommodate patients with more convenient and comprehensive services, such as the weekly clinic as a resource for optimum care.

Renan B. Uflacker, M.D., Interventional Radiology director, said he feels the clinic meets the needs of what their services couldn't provide before—a comprehensive approach to minimally-invasive procedures.

"The patients know ahead of time what the procedures are about, understand the indications and the risks and benefits involved and know what to expect in the future. The clinic is just one tool our Interventional Radiology Division provides to improve services by treating more complex patients with the highest standards of medical care as possible. We feel much more proactive today, working like surgeons, in closing that gap of care and providing long-term follow up care for our patients."

The VIR division has five interventionists who share strong training and experience in minimally-invasive therapy procedures. These specialists can perform more than 50 different types, including treating patients diagnosed with arterial and venous disease (atherosclerosis, blood clots) carotid stenosis and oncology patients (using cryo, microwave and radiofrequency ablations, as well as chemoembolization—all under image guidance) used to treat cancers of the liver, kidney and lungs. Once a patient receives care, they are redirected to their referring or primary care physician.

Results from a peripheral vascular test in January led Miles to the VIR clinic and Guimaraes' care. On March 15, she traveled to Charleston for a 45 minute-long abdominal aortic stent placement procedure conducted by Guimaraes. Hours later, Miles was walking around and resting back at home.

"I felt good," she said, comparing her recovery time from the invasive procedure to previous open heart surgery. "I felt blessed to be able to walk and do things around my house again."

"It is important to share with our colleagues a shift in the way we are practicing medicine and our full commitment to the best care for our patients, not only as minimally invasive techniques operators, but as VIR physicians capable of providing comprehensive care," Guimaraes said.

ART's VIR clinic is open on Thursday afternoons. To schedule an appointment, call 876-5558.