Each year, MUSC celebrates nurses, the nursing profession and the role nurses play in the health care needs of Americans. National Nurses Week is May 6-12 with the theme, "Nurses Trusted to Care."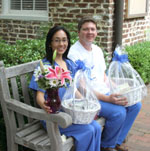 Resource Nurse of the Year is Joey Amundsen, 8E, Medical Acute Critical Care, and Nurse Manager of the Year is Leah Ramos, Neuroscience. Not pictured is Staff Nurse of the Year Susan Fawcett, Pediatrics Ambulatory Care.

The celebration began May 6 with the Nurse of the Year ceremony. The event celebrated nursing excellence with the Resource Nurse of the Year, Nurse Manager of the Year and Staff Nurse of the Year.
MUSC seeks Magnet Nursing excellence
MUSC has completed its first steps to pursue the Magnet Nursing Recognition status, the highest level of recognition offered by the American Nurses Credentialing Center (ANCC), recognizing nursing and organized nursing services. MUSC recently submitted its application to the ANCC. Magnet recognition awards an organization for the outstanding contributions of patient care clinicians demonstrated through excellence achieved in leadership, clinical practice, innovations and positive outcomes.

According to Marilyn Schaffner, Ph.D., R.N., administrator for clinical services and chief nursing executive, MUSC's application is communicating the institution's intent to pursue Magnet recognition.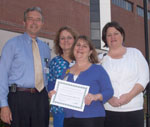 The theme for the Magnet journey is Changing What's Possible. "This will be an interprofessional journey involving nurses and other health care colleagues," said Schaffner. "I know we have the practice, innovation, and outcomes that will get us to our goal. We plan to submit our written documentation to be a Magnet-designated organization by Nurses Week 2013."

MUSC nurses placed third at the S.C. Nursing Excellence Conference. The poster winners are Stephen Schaer, from left, Linda Horton, Mary Beth Crummer and Sally Potts.