By Cindy Abole
Public Relations
It's been more than a year since psychiatrist, educator and mental health advocate Steve McLeod-Bryant, M.D., has embraced the medical director leadership at MUSC's Institute of Psychiatry (IOP).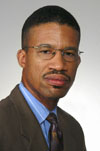 Dr. Steve McLeod-Bryant
McLeod-Bryant, who has more than 23 years working in a variety of MUSC leadership roles, is committed to finding ways to improving quality psychiatric services to adult and adolescent patients. His clinical and academic success is equaled by his professional commitments and community work as board chairman for the Coastal Community Foundation and work with other organizations.

As of April 1, McLeod-Bryant took on the part-time, additional role as special assistant to the president for community relations, MUSC Office of the President. McLeod-Bryant will serve on work groups and represent MUSC on local and statewide committees that have an opportunity to benefit from MUSC's resources as a teaching, clinical and research institution. He will work with MUSC President Ray Greenberg, M.D., Ph.D., and Sabra Slaughter, Ph.D., chief of staff, in this capacity.

Slaughter said McLeod-Bryant has had long-standing success working closely with people in community-based settings. "He's highly respected for his leadership and commitment to mental health, demonstrated administrative experiences and is attentive to identifying the needs of people in the community."

The groups and organizations McLeod-Bryant will work with include the South Carolina Health and Human Services Medical Care Advisory Committee, South Carolina DHEC Commissioner's Council on Eliminating Health Disparities, the Trident Urban League, YWCA, Charleston County School District's Health Science Advisory Council and the Small & Disadvantaged Business Utilization office.

Greenberg describes McLeod-Bryant as one of those rare individuals who has played leadership roles in the university as well as in the community. "For example, in the capacity of chairman of the board of the Community Foundation, he has been involved in helping to reach out to many individuals and organizations, and in all settings he is seen as a trusted and compassionate person. We are fortunate to have him at the medical university, and to have him serve as a bridge to the community."

A native of Binghamton, N.Y., McLeod-Bryant received his undergraduate and medical degrees from the University of Rochester in 1984. He completed his psychiatry residency at Tufts-New England Medical Center in Boston. In 1988, he began his career at MUSC as a clinical instructor and faculty member in the Department of Psychiatry and Behavioral Sciences and rose through the ranks in various leadership positions as past clinical director, McClennan-Banks; past medical director, Charleston Memorial Hospital; adult services chief, IOP Clinical Services; former director of IOP adult inpatient services; and interim director of Behavioral Health North Area Clinic.

A public speaker and winner of numerous faculty and teaching awards, McLeod-Bryant is a member of the American College of Psychiatrists, the American Psychiatric Association, S. C. Medical Association, Charleston County Medical Society, Black Psychiatrists of America and others. McLeod-Bryant devotes his time to mental health and mentoring programs in the Charleston community working with the South Carolina Action Council for Cross-Cultural Mental Health Services, Mental Health Heroes and the Ebony City Soccer Club.