Darius Rucker, rocker-turned-country-music-star, will be the keynote speaker for MUSC's commencement at 9 a.m. May 20 in the university's Horseshoe where about 800 graduates will receive degrees from the university's six colleges.

Rucker gained fame as the lead singer and rhythm guitarist for Hootie and the Blowfish, a band he formed at the University of South Carolina with three other USC students. The band released five studio albums and charted six Top 40 hits on the Billboard Hot 100.

In 2008, he signed with Capitol Records as a country music artist and to date has had five No. 1 singles on Billboard's country music charts. In 2009, he became the first African-American to win the Country Music Association's New Artist of the Year award.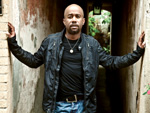 Darius Rucker

The Hootie and the Blowfish Foundation, which the band formed in 2000, has provided funding for more than 180 charitable projects. Rucker is involved in other charitable causes and serves on the board of the MUSC Children's Hospital Fund with his wife, Beth.

Rucker will receive a Doctor of Humane Letters honorary degree from MUSC.

Also receiving honorary degrees will be:

William C. Jenkins, Ph.D., a biostatistician and epidemiologist who helped bring to an end the infamous 40-year Tuskegee syphilis study by the federal government. During that four-decade span, which began in 1932, researchers studied the effects of untreated syphilis on African-American men in rural Alabama, most of whom were unaware they suffered from the disease. He will receive a Doctor of Science, honoris causa degree.

Robert J. Sywolski, a corporate executive and philanthropist. Sywolski's career has led him from the Stanford Research Institute to Wall Street to Blackbaud, Inc. in Charleston, where he served as president and chief executive officer. A supporter of the university, he devotes his time to many charitable causes including Crisis Ministries and Toys for Tots. He will receive a Doctor of Humane Letters degree.