By Cindy Abole
Public Relations
Student leaders and community volunteers were praised for their commitment and leadership in the community as part of the MUSC Student Leadership Awards and Service Banquet held April 13.

The event, hosted by the Office of Student Programs, honored eight inductees to the MUSC Student Leadership Society and recognized student teams and individuals who volunteered.

Sally Burnett, Trident United Way community volunteer coordinator, reminded the audience of mostly MUSC student awardees, faculty and staff about the importance of volunteering as the ultimate exercise in community service. She challenged awardees that in addition to volunteering that they should strive for a balance in life through activities that excite and rejuvenate their soul as it applies to their service commitments.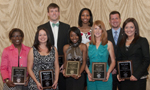 Student Leadership Society inductees: Debbie C. Bryant, Carol Brown, Brett Shigley, Joni Dunmyer, Crystal Johnson, Erin Pardue, John T. Wagner and Lisa Murphy.

Darleen Shaw, Ph.D., associate provost for education and student life, praised students for their commitment to community service in the Tri-county. "This truly is a distinctive group of young men and women. Throughout their journey, they've made MUSC a better place. May they continue to be leaders of service in their own communities."
The Student Leadership Society welcomed eight student-inductees for 2011. They are: Carol Brown, South Carolina College of Pharmacy (SCCP); Debbie Bryant, Nursing; Joni Dunmyer, Graduate Studies (CGS); Crystal Johnson, Medicine; Lisa Murphy, SCCP; Brett Shigley, Dental Medicine; Erin Pardue, CGS; and John Wagner, Health Professions.

Established in 2007 by the Office of the Associate Provost for Education and Student Life, the society recognizes students who personify quality traits such as caring, compassionate, ethical, proficient and creative leaders who have worked successfully in interprofessional teams. Students were presented with a plaque and received a $2,500 scholarship by the Provost's Office.
The banquet also recognized students and organizations in the MUSC Gives Back Community Volunteer Awards.
MUSC Gives Back director Liz Sheridan praised students for their efforts. "Though this year-end banquet serves to recognize student service achievements, it is from those that the students serve that receives the loudest applause daily."

Dental Medicine
Mary Alice Hughes (315.5 hours)
Graduate Studies
Organization: Graduate Student Association; Individual: Denise Kimbrough (109 hours)
Health Professions
Organization: Student Health Professionals Unified in Recognizing Diversity; Individual: Jessica Jones (139 hours)
Medicine
Organization: Students Interested in Pediatrics; Individual: Elaine Kao (361 hours)
College of Nursing
Organization: Hispanic Health Initiative Scholars Program; Individual: Katie Brasseur (160 hours)
College of Pharmacy
Organization: Student Society of Health Systems Pharmacy; Individual: Liz O'Hara (223.5 hours)
Universitywide-Organization
The Community Aid, Relief, Education and Support (CARES) Clinic – A free, interprofessional health clinic operated by student volunteers who provide health care for people without health insurance
Student, community advocate honored with Humanitarian award
It's pharmacy student Liz O'Hara's passion to help the underserved and homeless. Her focus was further emphasized after attending a 2008 international medical volunteerism conference in Georgia where she was inspired by the stories shared by national advocates who also aid underserved populations in communities across the country. Their commitment inspired O'Hara to initiate a street medicine program to serve the homeless in the City of Charleston.

The program, called Operation Street Health, will allow volunteer medical providers to address the medical needs of the homeless in Charleston, and allow students and providers alike to meet individuals where they live and gain a more comprehensive view of the unique challenges the street people must deal with to survive. It's O'Hara's leadership and dedication that won her the admiration of students and colleagues—tapping her as the recipient of the Charles H. Banov, M.D. Humanitarian Award. O'Hara also was presented with a $1,000 check as part of the award.
"I'm overwhelmed, honored and humbled with the significance of this award," O'Hara said. "This was an opportunity I believed could make a difference."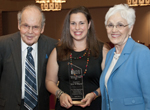 Dr. Charles H. Banov with winner Liz O'Hara and wife, Nancy. O'Hara will graduate with a pharmacy doctorate degree in May 2012.

O'Hara has volunteered as a student pharmacist since 2008, working with the CARES Clinic, Harvest Free Medical Clinic and Crisis Ministries. With Crisis Ministries, she helped promote the Hotdog Ministry and other programs which allowed her to support the medical needs of the city's homeless population.

Banov, after meeting O'Hara at the dinner, praised what she had done. "Liz, you've done so much and achieved many accomplishments in your life, what will you do in the future? All of us live in a better world thanks to compassionate, talented people like you."