By Cindy Abole
Public relations
In a few weeks, dental medicine graduate Jennifer Forsythe, DMD, will trade in the familiar Lowcountry landscape for New York City's skyline as she continues her training in a one-year general dental practice residency at Harlem Hospital. The move is a far cry from her humble beginnings in the small community of Snowden.

Forsythe, DMD, graduated from MUSC's College of Dental Medicine on May 20 with a doctorate in dental medicine. A day earlier, she was honored by dental faculty as the 2011 recipient of the Harold Z. Hirsch Scholarship for the Achievement and Advancement in Dentistry. Each year, the dental faculty presents this award to a graduating dental student for his or her dedication, persistence and hard work embodying the spirit of dentistry excellence. The award, given by the Hirsch family in memory of the late Harold Hirsch, DMD, a 1983 dental school alumnus, was established in 1992.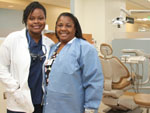 Dr. Jennifer Forsythe, left, with dental assistant Celeste Moultrie.

"It's with great honor and humility that I accept the Hirsch Award from the college and the Hirsch family," said Forsythe, a Mount Pleasant native. "It has been a long, arduous journey. Without the support of family, friends, dental faculty and fellow students, this day would not have been possible. I am a living testament to the power of prayer, hard work, persistence and determination."

Forsythe is a descendent of West Indian immigrants, American slaves and Native Americans. She will be the first person in her family to receive a professional degree. She pays homage to her ancestors by striving to achieve goals that they never had the opportunity to pursue. The youngest of five children, Forsythe, 27, attended Academic Magnet High School. She was a pre-med student at Howard University and earned a bachelor's of science degree in biology and a minor in chemistry in 2005.

It was at Howard's School of Dentistry's dental clinic while being fitted for braces that she learned about dentistry as a career choice from the dental students and residents. "The students talked to me about different aspects of dentistry, showed me the latest technology and answered my questions."

She was quickly hooked.

Although she was accepted to other dental schools, she chose to attend MUSC. She remembers struggling along with others through her first semester with classes such as gross anatomy. She quickly sought help from the dean's office, dental faculty and Center for Academic Excellence and Writing Center.

One colleague who was consistent with her support was staff dental assistant Celeste Moultrie. Moultrie, who worked in the college's clinical restorative clinic, always had a smile for Forsythe any time she would see her.

"You can do it—you'll get it," said Moultrie, who shared her level of enthusiasm and motivation with Forsythe and other students. Moultrie remembers seeing something special in the easygoing and determined dental student. As the years progressed, Moultrie saw her young friend blossom to become a confident, committed individual. "Jennifer always worked hard in achieving her goals. I'm very proud of her."

Tariq Javed, DMD, associate dean for academic and student affairs, was a valued mentor and faculty member who constantly encouraged her throughout her dental education.

"We're proud of Jennifer and her accomplishments. She's worked especially hard through dental school in becoming an excellent clinical dentist. Her dedication, persistence and commitment have helped her achieve her dream. I wish her all of the luck in her dentistry career," he said.

Forsythe credits her parents, Alfreda and Burns, her siblings, late grandparents and other relatives for their inspiration. She feels her success is a testament to her family, faith in herself in reaching her goals, and faith in God.
Three things that got Jennifer Forsythe through dental school
God
Family
Playing video games