By Dawn Brazell
Public Relations
In some ways, Justin Ellett feels like a dinosaur.

Ellett, winner of the College of Graduate Studies Distinguished Graduate Award for 2011, went through MUSC's Medical Scientist Training Program (MSTP) earning dual M.D./Ph.D. degrees. Finally, eight years later, he's eager to start his urology residency at MUSC.

"Friday is going to be a pretty proud day with all the family being here," he said of graduation day. "To reach the end of an eight-year program is a hard thing to wrap your mind around."

To put it in perspective, the new Hollings Cancer Center was just being built when he started medical school, and he's been here long enough to be a founding member of MUSC's CARES (community aid, relief, education and support) Clinic that has become a successful non-profit organization providing free medical care to the uninsured in Charleston.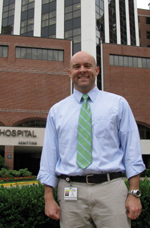 Dr. Justin Ellett

"I am the only original member left. It was my medical school class that was starting it, so they all left me long ago—four years ago. I am the last founding member left," he said, smiling and lamenting having recently hit the 30-year-old mark.

The years have paid off, though. Ellett, M.D., Ph.D., said he couldn't decide about pursuing research or practicing medicine, so he decided to do both. It's been a long journey and he now faces the tough challenge of carving out how the surgeon-researcher model will play out. It's a blend of disciplines that he's been told is tough to integrate.

Ellett smiles, admitting ambition is a strong suit for him. The Medical Scientist Training Program offered the broad background he wanted.

"It makes you a better researcher because you have a good focus on what the patients look like with the problem, and it makes a better physician because you can think analytically and mechanistically about the problem."

Kenneth Chavin, M.D., Ph.D., said that in all his years of working with graduate students that Ellett has risen above and beyond any others. "He's the most deserving graduate student of anyone I know. It's his commitment and doing above and beyond and his depth and breath of knowledge on any subject he has explored and his general positive attitude."

MUSC will benefit from him bringing his surgical-scientist approach to his urology residency, he said. "His wonderful personality and bedside manner with patients will just enhance his service. He embodies MUSC excellence and will bring that to his residency."

In the Lab
Ellett was drawn to MUSC in part because of the interesting work in Chavin's lab. Chavin, a surgeon-scientist, has been an important role model for him, he said. Ellett liked that his research in primary graft failure after transplantation with fatty livers had potential clinical applications.

"We published several papers and came across some new post-transplantation roles for some of the immune cells in the fatty liver."

Unfortunately, as people get increasingly obese, their livers begin to contain more fat, too, he said. The hepatocytes, which are the functional cells of the liver, actually accumulate fat inside them. Livers that are more than 30 percent fat are not eligible for transplantation since they do poorly. "In fat livers, the cells don't have the energy to overcome the stress of transplantation, so the fatty livers don't do as well and are not used. It leads to the organs being discarded when they are perfectly functionable otherwise."

Given that there are three times the number of patients needing liver transplants as there is availability, Ellett hopes their research will lead to ways to make more of these livers viable. The resident immune cells in the liver produce a molecule that helps balance inflammation after transplantation, and this production appears to be altered in fatty livers.
Their research helped them to better understand the altered immune mechanisms in fatty livers after transplantation, which will hopefully lead to therapies that can help reduce the inflammation in those fatty livers and increase their usefulness in transplantation

The good news is that once patients can get past that initial inflammatory period after transplantation, the fat in the liver will start to clear. "Within days, it can be acutely reversible. If we can just push them through that first short period of reperfusion in the first few days, the fat goes away and the liver can start functioning normally."

Ellett said it's gratifying to do work that can lead to saving lives, especially given the obesity trends that increasingly make transplantation more difficult. The research part of his work takes patience, given that it's a slow, arduous process. "One little experiment that generates something useful goes a long way to getting you through the next five, failed experiments."

His residency will mean juggling dual roles, but it also is part of what drives him. "I'm interested in broader health problems—to be able to take a problem and be able to correct it. You can help thousands of people by helping us to understand more about a disease, but I also will be able to look a patient in the eyes and help an individual."

In the Field
One word people use to describe Ellett is compassionate. College of Graduate Studies Dean Perry Halushka, M.D., Ph.D., said he's delighted he's staying at MUSC. "I have had the pleasure to watch Justin grow not only as an outstanding future clinician-scientist but also as an individual with great leadership skills. He has not only been very productive during his time in the laboratory working on his own research but has also helped others with their research. Justin was one of the founding members and then clinic director for the CARES Clinic, a student–run free medical clinic."

Ellett said being part of the clinic has been a wonderful experience for him. His second year of medical school, he and his fellow medical students did an elective course that required them to develop a plan to provide treatment for the underserved population. They had to figure out everything from how to recruit physicians to where to locate it. The clinic opened in August 2005.

"It's been a great experience as far as learning about practice management, fundraising and grant writing as well as the obvious benefits of taking care of patients who would otherwise not have medical care or would be in emergency rooms."

Ellett has enjoyed watching it take off and take root.

"It's been absolutely amazing. We've seen thousands and thousands of patients and we have hundreds of volunteers and great grant funding. It's been very rewarding to see how far it has come."

Working at the clinic has made him much more sensitive to the issues of underserved patients and aware of regional health and medical system issues.

Another benefit was the opportunity to work with students from other colleges. "You come to MUSC and you go into your own little college, and you deal with people also in your college and don't get exposed to the students in the health professions and pharmacy. It's a great experience as far as interprofessional connections."

Recommending volunteering to other students, Ellett said it helped him keep his perspective in graduate school. "You get so focused on what you're doing that it's good to get out and to get an outlet—to focus on what's going on with other people and not what's going on in my life. You can get very myopic at some times, and it's easy to lose yourself in what you're doing. It's good to get out and say this is what's going on with the rest of the world. The patient population out there is so thankful and so appreciative of what they're getting."

Next on the horizon is a sailing trip in the Greek Isles with his wife. Ellett also probably will be earning his black belt this fall, following in the steps of his mentor, Chavin, with whom he does karate class. Chavin, who considers himself a friend as well as colleague, said it's no surprise Ellett would make his way to the top.

"He's a dinosaur. He's the last of a dying breed that can do it all," said Chavin. "In this day and age of the me generation, he is doing for him, but at the same time he has gone way above and beyond—from helping to set up the CARES Clinic to working with the Special Olympics. These are things that he just gives back because he is that kind of person as well as being an accomplished individual intellectually, academically as well as clinically."