By Cindy Abole
Public Relations
The African proverb, "It takes a village to raise a child," resonates in the journey of medical school graduate Kenyatta J. Frazier, M.D.

Frazier's graduation marks a culmination of years of hard work and celebration with his family and a loving "village" of teachers, neighbors, coaches and friends who've inspired and influenced him along the way.

After all, this enthusiastic and determined young man has spent his life beating the odds. The Aiken native is the youngest of five children in a single-parent home where money was often scarce. His desire to become a physician came early—as a child he kept a box of bandages, first aid ointments and alcohol pads at the ready for any of his siblings.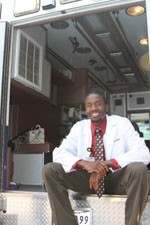 What got Kenyatta Frazier through med school: God; Dr. Debra Hazen-Martin; and family, friends, classmates and playing tennis.

At Kennedy Middle School, Frazier struggled to find his place among other students and was influenced by the wrong crowds. Frazier's six-grade school teacher Nance Dukes saw something special in Frazier. It wasn't long for Dukes to realize that this troubled child loved reading and learning.

"Despite limited resources, Kenyatta never lost his ability and strong desire to learn and get a good education," said Dukes, whose family took Frazier, and other disadvantaged children, under their wings beyond school to instill the value of volunteering and giving back to the community. Frazier joined the Dukes family in volunteering with the Aiken Boys & Girls Club and also participated in other service learning activities.

Frazier's transition to college was nominal. He already had developed his work and study- ethic during his final years at Aiken High School. He entered the University of South Carolina (USC) as an Honors College student and received tuition assistance under the school's Opportunity Scholars Program, which provides support to first-generation college students. It provided the right balance of academic support and services to freshman students in core courses like English, history and math. The program also offered academic advising, study abroad opportunities, access to workshops and mentoring. By the end of his sophomore year and several tough courses such as chemistry behind him, Frazier realized he was on his way to becoming a physician.

He chose MUSC's medicine program over USC and Yale School of Medicine because of its smaller class size ratio, curriculum and medical student support.

Myra Haney Singleton, COM director of academics and student support, can only smile at the mention of Frazier's name.

Singleton said that Frazier has always found opportunity in adversity throughout his life. She compares Frazier's presence at MUSC as a diamond in the rough. After much care and preparation, the diamond's sparkle ultimately shines through, she said. "Kenyatta has grown so much throughout medical school. He's a genuinely humble young man and never too proud to allow others to help him in whatever he does."

From the beginning, he learned to adapt to the rigors of medical school. And when he needed help in a class or to study for Step 1 of the United States Medical Licensing Exam (USMLE), Frazier turned to MUSC's Center for Academic Excellence (CAE) and the Writing Center's faculty and services. CAE director Jennie Ariail, Ph.D., remembers working with Frazier.

"Kenyatta is a genuinely loving, personable, committed and resourceful young man," said Ariail, who is among several on MUSC's campus who became Frazier's biggest fan. She collaborated with him and several black male medical students who participated in the COM's Gentleman and a Scholar mentoring program. Participants mentor high school and college-aged black males who want to become doctors. He also volunteered with Big Brothers, Big Sisters in Charleston, Student National Medical Association and tutored at Memminger Elementary School. "Kenyatta has charisma and an effusive warmth that draws people to him," she said.

When the time came to select a medical specialty, Frazier picked emergency medicine—a very competitive and demanding specialty residency. During his rotation, he worked closely with several of MUSC's Adult Emergency Department physicians, residents and staff.

"I love learning and the challenge of applying this information to save lives. There's so much to learn and I realized early on that one can't get too complacent in this area of medicine," he said.

Frazier interviewed at several emergency medicine residencies including MUSC, Charlotte Memorial Hospital-Carolinas Medical Center and Albert Einstein Medical Center. Christina Bourne, M.D., residency director and assistant professor of emergency medicine, advised Frazier and other students throughout the residency process. She guides medical students like Frazier to find an accredited program that is the best fit for them.

"Kenyatta stands out by the way he interacts with others," said Bourne, who tried to recruit him to stay at MUSC. In the end, Frazier matched to the University of Chicago Emergency Medicine Residency, one of the country's oldest and most respected training programs. "Our emergency department faculty, residents and staff recognize that Kenyatta is special. It's an effect he seems to have on everyone he encounters."

Yet, Frazier is also drawn to medicine beyond science and its healing power, but also for the ability to touch people's lives, especially black men, like himself. "It would be worth it if I can make a difference in one person's life."
Dukes is excited to see Frazier realize his potential. "Kenyatta has given me and my family more joy and happiness than he realizes. I wish him a world-full of success and I know that he will be an excellent physician and humanitarian," she said.

For the May 20 Commencement, Frazier hopes to see a village-sized crowd cheering for him as he receives his degree. Frazier's mom, Irma, grandmother, siblings and other family, fraternity brothers, medical school faculty and staff and friends are expected to be present. "I'm excited about the many opportunities that I've been given in my life. So far, it's been a marvelous journey."