In March, MUSC Senior Mentor Program hosted its annual graduation luncheon for nearly 200 guests.

According to Kelly Dillon, Division of Neurosciences Center on Aging program assistant, each year the graduating class of the College of Medicine students, along with the senior mentors that they have been working with throughout all four years of school, are recognized.

"This is a chance to get together one more time to celebrate and thank our mentors for their contributions to the geriatric education of their students," Dillon said. "Many mentors and students have formed close bonds during the last four years."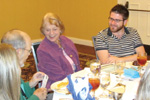 College of Medicine's Jefferson Brownell with senior mentor Gladys Durand during the March 16 appreciation luncheon.

Donna Kern, M.D., associate dean of curriculum integration and implementation, announced the recipients of the 2011 Paul "Put" Putman Awards. This monetary award was created in memoriam of previous mentor, Paul Putman, by his family to recognize students who show superior performance in their geriatric assignments, great love for their patients, and display compassion and caring through volunteer work or choosing a career in primary care.
College of Medicine's Valarian Bruce and Brandon Brown are this year's winners and will be presented with the official award at the Awards Ceremony in May.