By Dawn Brazell
Public Relations
Dinner conversations can be thrilling at the Shotwells.

Topics range from the hot debate about "P" values in biostatistics to the fine art of putting on a diaper. "We can switch from one to the other just that fast," said Matt Shotwell. He and his wife, Mary, managed to get married and have a baby all in time to be able to return for their hooding ceremony in MUSC's College of Graduate Studies where they both will receive their doctorate degrees in biostatistics.

The main challenge for them right now is getting enough sleep to string a conversation together. "Luke is so cute, who could get any rest?" Matt said, explaining how much their life has changed since that first day of orientation at MUSC in 2006, when he had no idea he'd be leaving married and with a family.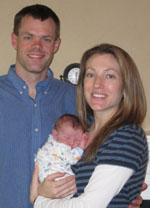 Mary and Matt with son Luke.

Biostatistics drew both Matt and Mary to MUSC. Matt had graduated from East Tennessee State with a master's degree in biology, but found a new passion during his studies. "I fell in love with statistics and quantitative methods. That led me down the path to this. I was looking for a way to integrate biology and quantitative methods and biostatistics seemed like a natural choice."

Mary, who received her master's in marine biology from the University of Cape Town in South Africa, was drawn to Charleston because of the Hollings Marine Laboratory. They both ended up working on the same training grant, mentored by MUSC's Elizabeth Slate, Ph.D. Matt, who now is an assistant professor in the Department of Biostatistics at Vanderbilt University, said the training grant was one of the main draws that brought him to MUSC because it paid well and offered wonderful educational opportunities.

Mary interviewed at NOAA—the National Oceanic and Atmospheric Administration—at the Hollings Marine Lab and found it was a great fit. "Academically, the experience was great. I couldn't praise the program enough."

Mary and Matt were the only two incoming students that year in biostatistics so they ended up helping each other out, bonding over biostatistics. Matt said one of their favorite activities was taking walks downtown in the evenings. Remembering the night he proposed, Matt said it was nerve-wracking. He loves Calhoun Mansion and intended to propose to Mary in front of the home, but for some reason couldn't find it. He popped the question anyway.

Matt said they weighed the pros and cons, and decided not to wait, tying the knot on Oct. 3, 2009.

"Life goes on. You have to push on through. In the long run, I think living your life with someone you love and having kids could be equally fulfilling and longer lasting than academic achievement."

They became parents April 22 at 2:26 p.m. to Luke, a healthy 6-pound-12-ounce boy. Matt, who has struggled to get used to the baby's schedule, said it's been a tough learning curve. "I'm sort of a worrywart anyway. I never realized how much work it is to have a baby—just having the baby part. We haven't even gotten that far into the parenting part. I'm surprised by how much fluid in and fluid out he has."

Matt said what really amazed him is experiencing the bond of parenting. "It's more intense than you can describe to someone who doesn't have kids. That was surprising how intensely you bond with a child."

Designing a research program at Vanderbilt University and collaborating with biomedical researchers, Matt is looking forward to teaching as well.

"I love the variety. I like data analysis. I get to work in all sorts of fields of biology and medicine. We get to do the most interesting part of science. We take data and determine the biological and scientific significance of it—what information can we garner from these data."

What many others dread, Matt sees as fun. Mary feels the same way. She came to MUSC looking for a program in quantitative methods where she could use her marine biology background. When life with Luke settles a bit more, she plans to teach college and wants to keep up her ties with colleagues at NOAA. She really feels drawn to sharing her passion for biostatistics with undergraduates. Marine scientists and biologists learn how to capture field knowledge, but what to do afterwards can be daunting, she said.

"I'd like to teach undergraduates taking biology and chemistry who are kind of scared of encountering statistics that it's not as scary as it seems."

Meanwhile, she and Matt are learning how to balance family and work. She said she's glad she didn't put her life on hold to pursue her academic career. Planning for their wedding actually gave her good breaks from her studies. She got better at handling the times when she felt overwhelmed.

"It's just one step at a time. I make a lot of lists and itemize what's most important that day and just try to do one thing at a time."