By Cindy Abole
Public Relations
Don't blame the audience of family, friends and supporters at today's 182nd MUSC commencement if anyone does a double-take when the College of Dental Medicine's newest dental graduates walk by.

People are not seeing double when they see dentists Charles (Charlie) Culp, DMD, and Alexander (Alex) Culp, DMD.

The identical twins are the sons of dental school alumni William (Bill) L. Culp Jr., Class of 1981, and wife, Janice, a 1974 graduate of the college's former dental assisting program. Their sons' celebration not only marks a second generation of new dental practitioners in the family, but also marks another milestone—Bill's 30th anniversary since receiving his dental degree and working as a Rock Hill general dentist. In a similar twist of fate, the twins—like their father—finish dental school at age 25. Both parents and children have made dentistry a family affair.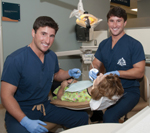 Drs. Charlie, left, and Alex Culp work side-by-side at the dental implant clinic.

"Bill and I are so proud of Charlie and Alex. We are grateful for the opportunity for them to study dentistry at MUSC. They are happy and understand how fortunate they've been able to realize their dreams and potential. It's been an amazing experience," said Janice.

Born just a minute apart (Charlie is older) in Rock Hill, the Culps fit with a lot of twin stereotypes—they're best friends sharing a twin ship bond like no other; share similar characteristics and mannerisms and possess an innate sense of understanding each other and often finish each other's sentences.

As children, mom devised a way to help others distinguish one from the other. She dressed each child in different colored shoes—Alex wore blue shoes and Charlie, red. As mirror image twins, their hair naturally parts on opposite sides, but it is too subtle a difference to distinguish them.

Both Charlie and Alex always felt a natural kinship and attraction to dentistry and MUSC's dental school through their parents.

The Culps would often commute to Charleston to attend dental continuing education courses and related training and would bring their sons. By age 5, the twins were already familiar with the dental school. Back home in Rock Hill, mom would take the boys to their father's dental practice on Fridays where they would watch him treat patients and curiously explore his office. It wasn't long before Charlie and Alex would realize how well their father was appreciated and respected by his patients and others in the Rock Hill community for his role as a community dentist.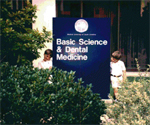 The Culp twins, at age 5, already felt at home on the MUSC campus.

When the time came to choose colleges and potential careers, their parents never pushed the twins toward dentistry as one would expect. Instead, they encouraged their sons to consider many professions and jobs, which also included dentistry. They went on to become Calhoun College honor students at Clemson University, their dad's alma mater. According to Alex, their parents challenged them to explore many options in careers and seek out information to make informed decisions. They graduated from Clemson in 2007 with degrees in biological sciences and microbiology.

Since middle school, their dad had made them a promise to reserve some space in his practice if either of them choose dentistry as a career. Bill observed how many of his dental colleagues began hiring associates within their practices. He naturally was thrilled that both Charlie and Alex were considering dentistry at MUSC and an opportunity to develop the community's next generation of dentists.

Both Charlie and Alex thrived in dental school and easily moved through the didactic portion, pre-clinical classes and their clinical dental training experiences before choosing general dentistry as their career choice.

Although they studied and enjoyed the challenges in prosthodontics, operative dentistry and oral surgery, they felt comfortable working as general practice dentists, which offered them broader challenges and opportunities for developing dental practitioner-patient relationships—something they always admired in their father's three generations of patient practice.

Associate professor Fredrick T. Moore Jr., DMD, Department of Oral and Maxillofacial Surgery, works in the college's outpatient pre-doctoral surgical clinic and oral surgery area has nothing but praise for the Culp twins.

"They're productive, studious, upbeat and provide great patient care," said Moore, who first met the Culps as second-year students in his oral surgery lecture class and again, as third-year dental students rotating separately through the oral surgery clinic. "They're quick with a smile and share a certain level of competitiveness. They've brought nothing but pleasure in the three years they've worked in the dental clinical classes and clinics."

New electric hand pieces, digital dental X-ray film processors and improvements in other dental technology and techniques were topics of many hours of discussions among father and sons. Today, the brothers are collaborating with their parents in renovating and preparing the Culp family's second practice, which also will accommodate the practice's newest dentists. The practice, which boasts 11 treatment rooms and a central lab area, is scheduled to open in Rock Hill by early fall 2011.

Just recently, both Charlie and Alex completed the dental exams for licensure in both South and North Carolina, before receiving their dental degrees May 20.

"The school has taught them so much in regards to good patient management skills and for this I am grateful. It provides a way for practitioners to effectively learn how to treat and manage today's patients. Oftentimes, it's not always about teeth; it's about providing good, comprehensive patient care," Bill said.