MUSC Children's Hospital will use a $1 million charitable investment from The Boeing Company to establish a community-based center aimed at promoting better health among the state's young people.

The Boeing Center for Promotion of Healthy Lifestyles in Children and Families will focus on helping children make the link of how healthy diets and physical activity impact good health.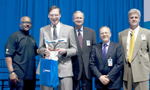 MUSC President Dr. Ray Greenberg, second from left, is presented with a commemorative Boeing 787 Dreamliner during the May 5 ceremony. With Greenberg are Lorenzo "Dipper" Burns, from left, Boeing S.C. employee; Jim Albaugh, Boeing Commercial Airplanes president and CEO; Tim Keating, Boeing senior vice president of government operations, and Jack Jones, Boeing S.C. vice president and general manager.

The center will help children adopt healthy lifestyle behaviors through a multi-pronged approach involving nutrition counseling, fitness training, exercise classes, medical assessments, individualized treatments and participation in group programs. Because young people acquire so many of their lifestyle habits at home and in school, the center also will support teachers and families in how to foster environments more supportive of healthy living.

Although the center will be housed and managed from MUSC Children's Hospital, its activities will take place at schools and other locations throughout the community. The idea, said MUSC President Ray Greenberg, M.D., Ph.D., is to prevent unhealthy lifestyles from developing in the first place.

"Children are our future and by making this investment, Boeing is helping to shape a healthier South Carolina. We need to instill healthy lifestyle practices at the youngest possible ages in order to prevent the development of diabetes, obesity, high blood pressure and other illnesses down the road."

By the end of the center's two-year ramp-up period, it will serve more than 8,000 children and family members, and an estimated 47,000 children and 8,000 personnel who will benefit from menu adjustments and other environmental changes made in 79 schools.