By Dawn Brazell
Public Relations
If you have to break a tooth, you want it to be on something worthy—a steak or hard-crust pizza—a hard chunk of ice maybe. Certainly, not a soft, chewy Five Guys' cheeseburger.

You also want this to happen—if it has to—on a Monday when you can rush to a dentist who can gape sympathetically with you at the jagged abyss that has appeared in someone, in my opinion, way too young for such an incident.

But no, this happens on a Friday, just at the close of a long work week, and to make matters worse, I realize I've accidently swallowed the chunk of tooth.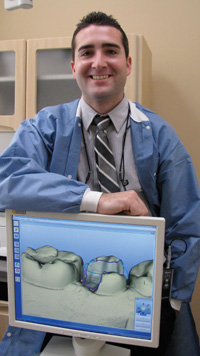 Dr. Walter Renne tours the state teaching dentists the wonders of computer-aided design and computer-aided manufacturing systems that are reshaping the field of dentistry.
I call a friend, a dental school alumna of MUSC, who isn't as alarmed as I. She encourages me to wait until Monday when I can take advantage of the James B. Edward's College of Dental Medicine's fancy, new technology and, in the interim, to try to chew on one side.

When I call Monday, I'm in luck.

A new dentist Anthony Mennito, DMD, can take me on, and he'll be assisted by a self-professed video geek, Walter Renne, DMD. Mennito warns me not to be alarmed by how young Renne looks—that he actually tours the state as an expert lecturing on the uses of the computer-aided design/computer-aided manufacturing or CAD/CAM systems.

As my tongue probes the jagged opening in the tooth, this is sounding good. Mennito begins the process, and Renne pops in to observe. I am alarmed. He looks almost young enough to be my son. I think maybe I am old enough to have breaking teeth.
Whipping out a magic wand of sorts, Mennito begins scanning my tooth, the images going into a 3-D computer model that can be rotated and spun around from all perspectives. It produces a sort of topographical picture, my teeth a ridgeline of peaks and valleys, with Renne tweaking the contour lines. He adds anchor points and lassoes an area of the image that isn't needed and hits delete. It's like teeth by Photoshop.

Renne and Mennito continue to refine and tweak the restoration using the computer's software, determining the shape and how heavily it will contact the adjacent and opposing teeth. I'm suddenly glad Renne has spent much of his youth playing video games, having started at age 4. "It's been a long video-game journey," he said, explaining his career path. He loves teaching dentists who might not be so video-game savvy why they shouldn't fear the new technology.

That's not a problem for Mennito. The CAD/CAM systems can be used for crowns, veneers, inlays and temporary bridges. Mennito is working on an onlay for me and takes more images, as they continue tweaking until this tooth fits nicely next to the adjacent ridges.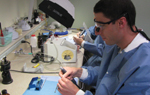 Dr. Anthony Mennito polishes up an onlay.

Happy with the final computer model, they ship the image off to the "mill" right down the hallway, where a machine begins the drilling process. Mennito explains this process typically takes anywhere from 12 to 23 minutes depending on the system and material. The good news is my onlay restoration is being made out of a solid block of eMax (lithium disilicate), a very strong, durable substance. It comes in 16 A-D shades and four bleach shades with four levels of translucency to choose from so the restoration matches the adjacent teeth and will appear invisible.

I'm liking this. It's a beautiful blend of science and technology.

Renne tells me it won't be long before there are kiosks, where patients can bite on a thin sensor that will automatically capture a 3D digital impression of their bite. In 10 years, the technology will change so much that dentists won't even be able to do some procedures they used to in the old way.

"Look at the photographers who didn't like digital cameras," Renne comments as we watch water splash around a green glass tube that houses the material becoming my tooth. "Now everyone uses them."

Renne said even dentists facing retirement are training on the new equipment. "It's a much more enjoyable way to do dentistry."

When the mill finishes whittling down the block to a tiny ceramic piece of "tooth" material, Mennito takes it to a polishing station and finishes the restoration, and then it's bonded back into my mouth. In this case, he was able to preserve enough of my tooth structure so I didn't need a crown.

Bless him. Some delusions of youth should be preserved.

I like that I came in without a tooth, but am leaving with a tooth that looks better than before without its silver filling. I'm getting younger by the minute.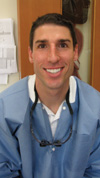 Dr. Anthony Mennito
Mennito checks out the handiwork, probing the gum line checking for "chillen in the streets" a quote he's learned from one of his mentors about the hazards of residual materials left between the teeth. I marvel that no matter how advanced or high-tech we get, there's no substitute for hard-earned experience and the teachers willing to tirelessly pass that along.

Coming from a private practice in Bamberg where he didn't have all the fancy equipment, Mennito is loving the opportunity to teach and to expand his skills. The technology is only a part of it though. "You'll always have to have those interpersonal relationships," he said, reminding me of a follow-up appointment. "That needs to be learned as well as doing a crown properly."

Some things, machines just can't do.