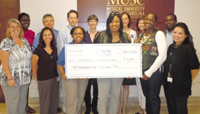 Faculty and staff from the Division of Rheumatology and Immunology of the MUSC Lupus Erythematosus (MUSCLE) Research Group were joined by the officers of the Virtuous Ladies Motorcycle Club of South Carolina who gave a $2,500 donation. The donation, which will benefit lupus research and education, was from a fundraiser held at the St. Julian Devine Community Center in Charleston.


PEOPLE
Susan Reed


Susan Reed, DDS, DrPH, associate professor, College of Dental Medicine, received the Service Award for Outstanding Service from the American Association of Public Health Dentistry at the National Oral Health Conference. Dental Public Health is known for population-based research, surveillance and policy contributions to prevent and treat oral diseases.
Gerard Silvestri
Gerard Silvestri, M.D., professor, Pulmonary & Critical Care Medicine, received a Duke Endowment grant to combine the expertise of MUSC's oncologists with South Carolina Light Rail (ultra high-speed fiber optic network) to serve doctors and patients in South Carolina. Silvestri's project will establish a virtual tumor board (VTB) with physicians at four health care institutions in South Carolina to explore how a VTB affects management of lung cancer cases.


Tonya Turner
Tonya Turner was recognized as the 2011 South Carolina Young Dietitian of the Year by the S.C. Dietetic Association. Turner is certified in adult weight management and is the head dietitian at MUSC's Weight Management Center. Turner has worked in the areas of adult management, bariatric surgery, eating disorders and sports nutrition for more than 10 years.


EVENTS
2011 Run For The Nine
The 2011 Run For The Nine Memorial 5K, an event in memory of the nine firefighters who died June 18, 2007, will begin at 8 a.m. June 11 at Joe Riley Stadium, 360 Fishburne St. The event will open at 7 a.m. and continue until 1 p.m. The memorial will include an afterparty inside the stadium with food, drinks, music, activities, fire trucks and other equipment. Registration fee is $25 for individual run or walk participants. Visit http://www.local61.com and click on 2011 Run For The Nine.

Roommate Finder Party
Off-Campus Housing is hosting a Roommate Finder Party from 5 to 6 p.m. June 17 in Room 204 of the Harper Student Center.This is an opportunity for students and residents to meet potential roommates and check out available Charleston rentals. Light food will be provided. Reserve a spot by calling 792-0394 by June 15.

StaffPicks
GreatRead
The public is constantly bombarded via the news, the medical community and friends with health information, stigmas, perceptions, opinions, and evidence. Roxanne Parrot's "Talking About Health: Why Communication Matters" (2009) combines her expertise as a communication and health researcher with personal experiences to argue that competent communication is at the center of all the health care challenges we face. The content is easy to read and accessible to those with varying degrees of understanding of the medical system.
Reviewer: Heather Woolwine, Public Relations

VideoInterview
Alan Cooper with LowcountryBizSC sits down with Dr. Etta Pisano, vice president for medical affairs and dean of the College of Medicine, for an indepth interview about MUSC and NextRay (Pisano's entrepreneurial venture). Visit http://www.lowcountrybizsc.com/news/coversations/618.
DidYouKnow
In May, The Catalyst online received more than 1 million hits. To visit The Catalyst online and to see back issues in a portable document format (pdf), visit http://www.musc.edu/catalyst.
Your Reflections?
If you have a book or website you'd like to review or recommend to colleagues, send in your reflections to: Dawn Brazell at brazell@musc.edu.