Department
Hospital Communications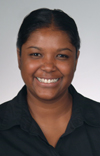 How long have you been at MUSC
Since October 2010
Bad habit
Too many sweets

Meal you love to cook
Pelau. It's a dish from Trinidad and Tobago, which is where I am from.

Favorite restaurant
Basil

Favorite place in the world
Anywhere my husband is

A must-have in the fridge
Wine
Most embarrassing moment
At my former job, assuming that a lady was with her son, when in fact he was her husband, and they were the same age.

Dream vacation
The Maldives for a month with my Kindle

What did you study in college
Political science with a pre-law concentration

Favorite place to shop
World Market

Friday, June 10, 2011