By next summer, Mount Pleasant residents can take advantage of MUSC's patient-centered medical office complex opening in what's being called the community's new downtown.

The building, located on Hungryneck Boulevard just off Hwy. 17 is the first facility in the Central Mount Pleasant Development and eventually will be one of many in the commercial, retail and residential development. The facility will house numerous MUSC specialities in one location.

The physician group at MUSC, University Medical Associates, is funding the project from its clinical services revenue and no taxpayer dollars will be used for the building.

"This is an exciting time for MUSC," said Vice President for Medical Affairs and College of Medicine Dean Etta Pisano, M.D.

"Our new facility will allow us to improve our service to the community and enhance our ability to deliver high-quality and convenient care to our patients."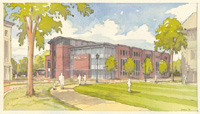 A rendering of Mount Pleasant's MUSC Health-Specialty Care East. The MUSC facility will be the first building in the Central Mt. Pleasant Development, off of Hungryneck Boulevard, and is scheduled to open in May 2012.

The 80,000 square foot facility will house MUSC physicians from a variety of medical and surgical specialties. In addition to consolidating most of MUSC's existing Mount Pleasant practices in one location and allowing for growth, the building's design can also accommodate new services.

According to Howard Evert, M.D., medical director for the project, "We have included many features designed to create a patient-centered and healing environment, and an environment where patient care can be coordinated efficiently and logically. From the rooftop healing garden and atrium courtyard to the community room, we believe the patient experience will be exceptional."

The facility was also designed to meet Leadership in Energy and Environmental Design certification, which is awarded to structures built to meet a set of environmentally-conscious and energy saving standards. The building shell has been strengthened to make it highly resistant to damage from hurricanes and earthquakes.

"With its own emergency power system, this building could serve as MUSC's 'fall-back' facility should a devastating disaster strike our community," Evert said.