By Dawn Brazell
Public Relations
Kathleen Brady waves off being named the No. 1 most NIH-funded psychiatrist in the nation, a recognition she was surprised to receive earlier this year.

Brady, M.D., Ph.D., a MUSC psychiatrist and Distinguished University Professor, attributes her involvement in several large grants as what led to the ranking. "I don't really spend a lot of time thinking about what everyone else is doing."

What she does spend time on is her specialty area of substance abuse and the changes that are reshaping that field.
"Research is my passion. It's what I enjoy doing and thinking about. It's always exciting, always new and never monotonous. You come to work every day and pretty much face a different challenge," said Brady, who also holds the titles of director of clinical programs in MUSC's Clinical Neuroscience Division and director of the S.C. Clinical and Translational Research Institute (SCTR).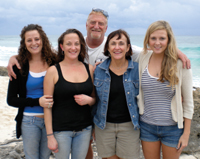 Dr. Kathleen Brady, center, with her husband, Dr. Robert Bruce Lydiard, and their daughters, from left, Monica, Jessie and Claire in Cozumel.

"There's a lot of flexibility in research, so if you're heading down one avenue asking a series of questions and something comes up that may appear at first to be an aberrant finding, it can lead to a whole different and productive line of questioning."

Her eyes light up at the thought—just as they have been for decades when she talks about research. With the precocious start of getting a paper published in "The Journal of Experimental Analysis of Behavior" when she was in the fourth grade, Brady knew she enjoyed research.

"It was a report I had done that had won a science fair. It was having rats run through a maze. They were searching for food at the end, and as they learned the pathways, they made fewer and fewer errors. It was a learning experiment."
For Brady as well, as it helped set her on the path to a medical career.

Her father, an experimental psychologist and emeritus researcher at John Hopkins University, has been an important mentor and guide in her life.

Another important influence was the loss of her mother, who had been ill for several years, when she was in the fifth grade. The middle of five children, Brady said all of her siblings learned to be independent.

"Part of my resilience comes from being able to handle those pretty dramatic changes and losses at an early age. It made me really close to my siblings and my father at an early age. We really appreciated each other."

Balancing act
It's a lesson she never forgot.

Colleague Lina Obeid, M.D., said Brady is unusual in how she blends several talents, while balancing a full, personal life. "She's accomplished all around—her personal life, her children, her work, her social life—it's all very well integrated and seamless. She's my role model for how she puts all these things together in her life."

Obeid's not the only one amazed. Friend Susan Staub loves how Brady's personal life, as a wife and mother of three daughters, is just as successful as her professional life. She has the knack of making whomever she's around feel important. Staub recalls going through a difficult period in her life and remembers Brady calling her just to check on her.

Staub asked her where she was, and Brady replied she was in a London airport. "She was thousands of miles away, thinking of me."

That is typical for Brady. She's had Brady call her just before she's about to speak at a conference. "She's a fabulous friend. She's supportive and caring. She's there for people. If something ever happened to me, my kids would turn to her."

Sometimes Staub, a social worker, gets a surprised reaction from people who want to know why Brady hangs out with her since she's not a researcher or doctor. Staub describes Brady as a compassionate and non-judgmental person.
"She's not in any way someone who is a snob. She never puffs herself up. She has a right to, but she never does."
Another quality Staub and Obeid note about her is her high energy. Staub and Brady, whom she describes as a playmate, like to take mile-long swims parallel to the Sullivan's Island beach. When Brady went to Australia earlier in the year for a three-month sabbatical, Staub went to visit. She was amazed that one of the first things Brady did when she got there was buy a bike to ride into work, which was several miles away through a tricky terrain.

"I would have lacked the spunk to do that. She has a lot of can-do in her," she said, describing how she's not afraid of new activities. "If something interests her, she's going to dive right in."

That's true professionally, as well, which has led to an impressive array of academic and administrative appointments as well as awards, which include a "Women of Achievement" award from the state and a Betty Ford award for her contributions to research on women's issues in substance abuse.

Obeid said Brady is internationally recognized and in high demand in her field, and lands the competitive grants because she stays ahead of the curve. When MUSC was struggling to get what is now SCTR going, Brady stepped in to help get a $20 million award from the National Institutes of Health to establish a center for translational science at a time when there were very few in the country.

"She put MUSC on par with outstanding schools. It comes naturally to her to put people together and write good grants. She's always pushing the envelope and taking things to the next level, but with a charm and a grace and a soft manner. I've never seen her lose her temper. She's always so gentle and so nice."

Master collaborator
When asked about her role in getting SCTR started, Brady said it was a need for the university, so she decided to take it on. "As I got involved, I saw it in the same way I saw my research questions as far as a problem that needs to be solved. You can put your skills and talents toward trying to figure out the best approach to facilitating translational research. I'm interested in the larger issues of how to set the scene to facilitate research and discovery and collaboration. I've turned more to organizational and administrative things to foster research. "

That fostering requires changes at the individual level in getting basic scientists working more closely with clinicians and in getting clinicians working with the community. Translational research requires applying incentives and developing a network with area physicians, and even better getting those physicians involved with the research so that they understand it, she said.

"They can be our best advocates among their peers then. 'Have you tried this sort of therapy or this kind of medication? I did a study with it.' I think that's much more convincing often in terms of people adopting new treatments than some big academic person coming down in a white coat saying you need to do this."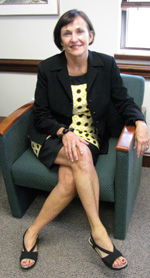 Dr. Kathleen Brady
Brady, who met her husband, R.B. Lydiard, Ph.D., M.D., at the Medical College of Virginia, followed him to MUSC, where she finished her medical degree in 1985. She's been glad to stay because she likes how the smaller campus fosters a collaborative environment.

"I've never had anybody not be very willing to get together and collaborate on a project. I think that atmosphere of cooperation—the idea that we're all in this together and we need to link arms to improve the stature of the university—that everybody is on board with that."

Always drawn to the area of neuroscience, Brady said she still feels passionate about her research into substance abuse and addiction.

"I've always been moved by the sadness and disruption and far-reaching consequences of substance use disorders. When I started in the field addictions were misunderstood and thought of as bad behaviors and not as something that is a medical disorder that warranted medical treatment. They are still stigmatized disorders, but I think the attitudes about them have changed to some extent. It was a fascinating area to me and an underserved area in terms of research and clinical care."

She's seen tremendous change during the past 30 years from the development of personalized medications to attitude shifts to provide much more enlightened treatment. She's curious about how advances in neurobiology will be able to accelerate the development of substance abuse treatments.

"When I look at the advances made in certain areas of medicine—cancer, surgery—when I see how improved treatments are, I can see how much better we're doing and how much better we can be doing. There's lots of room for improvement, and you're never going to make those improvements if there's not research."
It's not just her area that she wants to promote, though. Brady said she's excited to be filling more of a mentoring role for upcoming researchers who show passion for their fields.

"At this point I can see the limits of what I'll be able to do. It's a very gratifying thing to mentor these people who you know will go on to do great things. To see someone get excited and know that they're going to take that passion and move forward and do some positive things, that's very gratifying for me."
Brady's Life Lessons
Advice to reasearchers
"It's really important to keep balance in your life and find something that you're passionately interested in because that's what it takes. It helps to be really focused and passionate about your research. The funding atmosphere is getting worse from what we hear. It's going to take a lot of dedication."
Despite that it's still important to have balance and take care of your health, family and loved ones, she said.
"Keep everything in its place."
How she handles being overwhelmed
"I sit down and prioritize. I deal with tasks one at a time or ask for help. It's a good thing to know that you don't have to do it all by yourself."
Advice to women
"Women need not to be afraid to be assertive. They should expect fair treatment and ask for what they deserve. You can be pleasantly assertive and know what your worth is."

Brady said this is something she's gotten better at as she's gotten older, and it is a skill women can learn, whether they were raised in Maryland as she was or from the South.

"I've seen some really powerful Southern women who know how to get what they need. Some with awesome negotiating skills. In fact, they surprise you. That's part of what makes it so powerful. With all that charm, you just don't see it coming."
How she keeps balanced
She swims every day either in the pool or the ocean. She enjoys outdoor activities and loves reading.
Items on her bucket list
None. She said she's living her life now, traveling and doing what she wants to do while she has the energy and enthusiasm. "We never know what tomorrow is going to bring."