With plans for expansion, MUSC's Boot Camp for New Dads (BCND) will be teaching even more new fathers the fine art of parenthood—from a male-only perspective.

Program director Kimberly Harris-Eaton, Ph.D. (c), R.N., said that veteran fathers with MUSC's program recently received advanced training in Denver that will enable MUSC to provide trainings in the community and across the state.

The concept of the Denver program, dads-to-be learning the ropes from men who have successfully made the transition to fatherhood, began in Irvine, Calif., on Father's Day 1990. The three-hour boot camp is an interactive time where men learn everything from how diapers work to how to maintain a couple's sex life after the birth of a child. Fathers providing training bring their babies for paricipants to hold.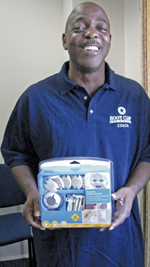 MUSC volunteer and "drool sergeant" Rodney Covington holds up a safety kit used in training. He loves sharing his parenting experience during camp.

"Many times it's the first time a dad has held a baby," she said."We want to make sure we're arming our dads with the right information."

Volunteer Tom Dalik said the program lets men gain confidence about parenthood. "You realize that you do have what it takes. You realize how much your child needs you."
Boot Camp Sessions
Advance registration is needed for MUSC's free, three-hour course. Morning sessions will be June 25, July 30, Aug. 13, Sept. 10, Oct. 8, Nov. 12 and Dec. 10.

To register, call 792-5300. For more information, e-mail brownind@musc.edu or visit http://www.bootcampfornewdads.org.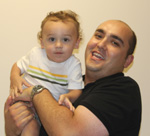 MUSC volunteer Dr. Can E. Senkal, with son Emre Nicholas, enjoys working with the program.

Veteran Advice
"Remember, mothers have a bond. Fathers have to create a bond. A happy child comes from a daddy who knows how to take care of him or her. At the first opportunity you get, take your shirt off and feel your baby against your chest. Feel the heart beat. Make that bond."
Rodney Covington, Environmental Services
"You have what it takes to be a good dad. You may have never held a baby. You may not have had a father in your life, but you can still be a good dad. Your child needs you."
Tom Dalik, S.C. Parenting Opportunity Program
"Find your method of contribution to the family team. Trust yourself to be the caregiver."
Johnny Mole, Bioengineering