Wellness Wednesday: Employee Health Services will be administering tuberculin skin tests to employees from 11 a.m. - 2 p.m. on Wednesday, June 22 at the MUSC Family Medicine Health Fair.

Mobile mammograms: The Hollings Cancer Center Mobile Van will offer mammograms from 8 a.m. to 3 p.m. on June 22 in the MUSC Family Medicine parking lot. Call 792-0878 to schedule an appointment.

Worksite screening: The next screening will be held June 22 at MUSC Family Medicine. The screening is $15 with the State Health Plan and $42 without. Register at http://www.musc.edu/medcenter/ health1st.

Free bone density screening: The MUSC Osteoporosis and Bone Health Center and MUSC Employee Wellness are offering a bone mineral density screening, free of charge, to any employee who is at risk including any postmenopausal woman (not currently taking prescription medications for osteoporosis) who has not had a DXA scan in the last two years. The next screening is from 11 a.m - 3 p.m. July 7 in the MUSC Wellness Center Board Room. For more information or to schedule an appointment, e-mail musc-empwell@musc.edu.

Farmers market: Fresh fruits and vegetables are available from local farmers from 7 a.m. to 3:30 p.m. every Friday in the Horseshoe and in the grassy area next to Ashley River Tower behind Charleston Memorial Hospital.

Chair massages: Free massages are offered to employees on Tuesday nights and midday Wednesdays. Look for broadcast messages for locations and times.

Discounted state park annual passes: Ranger John Phelps from Charles Towne Landing State Historic Site will be in the Children's Hospital Lobby from 11 a.m. - 1 p.m. on June 22 selling park passes to employees at a 20 percent discount. Visit http://www.charlestowne.org/ or http://www.southcarolinaparks.com/ to learn more about the natural and historic settings in our community and state.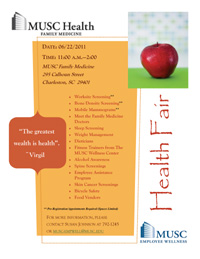 Find us on Facebook! Like our page and keep up with all the wellness events at MUSC. Contact Susan Johnson at johnsusa@musc.edu to become involved in employee wellness at MUSC. Events, speakers or any other ideas are welcome.