By Allyson Bird
The Post and Courier

She sits on her grandmother's front porch, looking sophisticated with her pixie hairstyle and a pearl necklace, as the midday sunlight catches her fair skin and an American flag waves overhead.

Harper Drolet smiles on cue for the painter, a family friend named Beverly Grantham Derrick. Then, after flashing a few perfect grins for Beverly's camera, she dashes inside as her grandmother, Carol Drolet, pauses on the banister and clenches her forehead.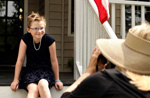 Harper Drolet is the picture of poise and loveliness as she sits for her photograph to be taken by family friend Beverly Grantham Derrick, who then will paint Harper's portrait. Photos by Grace Beahm/The Post and Courier

"It's just the thought of Beverly taking her picture because she might not be here," Carol said. She wipes away tears, inhales deeply and takes off her black cardigan. "I can't let her see me this way."

Harper is 10 years old and preparing to fight a rare form of soft-tissue cancer for the second time.
To meet this precocious girl, a rising sixth-grader at Blessed Sacrament School in West Ashley, it's hard to believe that those knots of cancer have returned to her body.

That in just a few days she's expected to spend hours hooked up to machines harvesting healthy stem cells, and that in coming weeks she'll grow weary under the poisonous pressure of chemotherapy.

Jamie Drolet, Harper's father and the retail advertising manager at The Post and Courier, teases her about not brushing her hair sometimes.

"Dad, I was bald," she replies.

He shrugs. "She's got a point."

Her grandmother cries. Her parents cry. All the adults do. Harper, instead, chooses to draw horses.
She keeps a "menu" of her equine art with prices for each sketch, some going for as little as 55 cents. She plans to give the proceeds to a shelter for abused horses, once she finds such a place.

A family friend donated horseback riding lessons to Harper in December, after she finished more than a year of chemotherapy.

Harper Drolet keeps busy by drawing horses at her home in West Ashley. She hopes to sell the pictures, then use the money for a shelter for abused horses.

"Unfortunately, the cancer came back," her father says, "so that's going to have to wait."
Harper's follow-up scans in January and April looked clear, but by May two tiny tumors—one in her left thigh and one in her mid-pelvic region—appeared on the screen, and a mass on the back of her tongue quickly grew to the size of a racquetball and was partially removed.

Harper returned to wing 7B at MUSC Children's Hospital last week in preparation for efforts to gather her stem cells. She earned a reputation during her earlier stay there for unplugging her IV pole and wandering the halls to visit other young patients.

"I knew quite a few of them, and a few of them, unfortunately, have passed way," Harper said matter-of-factly.
She led a drive to collect 7,000 toys for the hospital around the time her first treatment ended. Her doctors and nurses took to calling her "the ambassador of MUSC."

Outspoken and articulate, Harper quickly became the local face behind fundraising efforts for cancer patients. She took to the microphone at some MUSC charity golf tournaments to share her story. She carried a torch in the Relay for Life. And she went on the air for a radio pledge campaign on WEZL-FM.

Michelle Hudspeth, M.D., one of her primary physicians, said Harper's positive attitude never wavered, even as tough treatments dragged on, turning her stomach and stealing her blond hair. She even encouraged other young patients along the way, her doctor said.
Harper Drolet keeps busy by drawing horses at her home in West Ashley. She hopes to sell the pictures, then use the money for a shelter for abused horses.

She changed from, initially, a very quiet young girl to a very talkative, very mature young lady," Hudspeth said.

Just as Harper rallied for her hospital, local businesses rallied for her in a flurry of fundraisers. The Sunflower Café on Ashley River Road near the Drolets' house began collecting money in a glass jar in late 2009, and continues pulling in cash daily.

Between ringing up customers, owner Jenny Hooker stands behind the cash register and counts the money in Harper's jar. For each dollar, Hooker folds a strip of baby blue or yellow paper into a ring and staples the ends together, interlocking them in a daisy chain that she attaches to the cafe's walls.

She calls them hugs, and on each hug she writes a message: Joy. Good Health. Courage.

The hugs passed the $6,000 mark and now circle the restaurant six times.

"When she's all good, we're gonna take down all these rings and wrap her all in them," said Hooker, who updates the restaurant's marquee once a week. During Harper's previous chemo treatments, she asked her mother to drive past the sign on Mondays so she could see the Hugs for Harper tally.

"So Sunday afternoons I update the sign in case she drives by," Hooker said. "…We're gonna get her there."

This time doctors plan to tackle the tumors with a clinical trial. After healthy stem cells are harvested, Harper will receive an aggressive chemo cocktail several times a week to shrink her cancer. So far, this treatment approach has offered little evidence of success.

Harper starts with two courses of chemo, each lasting three weeks. If the chemo treatments shrink the cancers sufficiently, her doctors will replant her healthy stem cells in the hope that they will take over and rid her of the cancer. She also may require additional radiation treatment.

The process could take close to a year, and if the doctors don't think it is going well, they are prepared to shift to another trial procedure. Last time, she stayed at MUSC well after her chemo treatments because her body couldn't recover from them without help.

"I'm anticipating her being in the hospital quite a bit," her father said.

Last week, the Make-A-Wish Foundation sent Harper, her two sisters and her parents to Disney World. A family friend flew them to Florida on his private jet.

Harper wanted to meet singer Justin Bieber, but she was No. 59 on the Make-A-Wish list, she said—too far down to guarantee that she would feel well enough to meet him when the time came. She hopes to get that wish granted after treatment.

Harper starts chemo June 27, the day after a luau to celebrate her 11th birthday.
How to help
If you would like to make a donation to Hugs for Harper, deposit a check made payable to Harper Drolet at any local Wachovia/Wells Fargo bank.

Follow Harper's progress on Facebook: http://www.facebook.com/pages/Hugs-for-Harper/253901732554.

Editor's note: The article ran in the June 18 issue of The Post and Courier and is reprinted with permission.