The James B. Edwards College of Dental Medicine's Zeta Eta Chapter of the national dental honor society, Omicron Kappa Upsilon (OKU), presented two of its annual student awards.
Neal Patel, DMD 2014, was the winner of the Dr. Joseph Cleveland Award, and Anna Roberts, DMD 2013, was the winner of the Dr. William Kramer Award.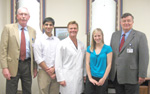 Neal Patel, second from left, and Anna Roberts receive awards from Dr. Steve Malley, OKU chapter president, Dr. Louis Costa, and Dr. Jack Sanders, College of Dental Medicine dean.

Both of these awards recognize character, service and scholarship and carry a stipend that is supported by Louis Costa, DMD, an OKU member. Additionally, at the chapter's annual banquet, this year's newly elected members were inducted into OKU. They are Adam Blumer III, Len Fiume, Elizabeth Fulmer Eakes, Shivani Patel, George Reid IV and Kathryn Stroud of the DMD Class of 2010. Drs. Keith Kirkwood and Michael Kern were elected as dentist faculty and honorary member respectively.