In the fast-paced, demanding world of emergency medicine and critical care, the timely accessment and management of information is just as important as the response and ability to provide quality patient care.

At MUSC's Adult Emergency Department (ED) and at Ashley River Tower's (ART) Chest Pain Center, physicians and staff are merging new technology with expanding electronic information systems and new clinical applications, or apps, to speed up a critical care team's response and provide quality patient care.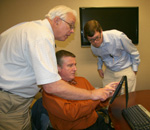 Cardiothoracic Surgery's Dr. John M. Kratz, from left, demonstrates a useful iPad medical app with Emergency Medicine's Dr. Larry Raney and OCIO's Clay Taylor.

At MUSC's Adult Emergency Department (ED) and at Ashley River Tower's (ART) Chest Pain Center, physicians and staff are merging new technology with expanding electronic information systems and new clinical applications, or apps, to speed up a critical care team's response and provide quality patient care.

In the battle for hospital electronic platforms, tablet computers are leading the way in terms of functionality, mobility, convenience and value. Apple's sleek iPad device is one of the most popular products used in health care and MUSC staff are discovering how easy and effective tools these products are for point-of-care delivery, according to OCIO's Clay Taylor.

"The OCIO has gone from receiving a few sporadic calls about iPad support, to receiving multiple calls almost every day," said Taylor, who works with the OCIO Endpoint Security Team.

iPad demand and support has flourished and prompted OCIO Information Services to set up a website to assist new iPad users with the setup process. Users can navigate to http://www.musc.edu/ipad and download the MUSC iPad profile, which sets up MUSCsecure wireless access, e-mail and VPN access for off campus use of webapps, Citrix client for accessing webapps, instructions for setting up pass code locking (a requirement for MUSC use) and more services.

John M. Kratz, M.D., professor of cardiothoracic surgery, Heart & Vascular Center, leads a team of surgeons who treat patients with heart valve defects, who need bypass surgery and manage heart pacemakers. Last fall, Kratz and Division of Emergency Medicine director Larry Raney, M.D., were approached by Taylor to test the efficacy of iPads and tablet PCs within different hospital settings. Taylor introduced them to the first generation iPad, which was released in April 2010. It runs on the same operating system as the iPod Touch and iPhone and can run iPhone apps as well as other Apple-approved apps.

"Users, including myself, are continually challenged with selecting mobile devices that work well with hospital software and applications that meet our need in a timely manner. The medical center's move to introduce tablet computers, especially the iPad, is great if you're looking at or interacting with displayed information. These devices give users access to volumes of information. It's about how you use the device that counts," said Kratz about the device's ability to access a patient's electronic medical record and other information.

Raney, a self-professed computer geek, has always liked the idea of mixing Smartphone technology with critical care medicine. Almost a decade earlier, Raney used one of the first Smartphone handhelds, the Palm Pilot PDA (personal digital), to help manage work and information. But with improvements in technology, PDAs became slow and obsolete with evolving hospital IT systems.

Both physicians were attracted to the iPad's lightweight, compact size (7.3 inches x 9.50 inches, 1.33 pounds) and optimized screen allowing users to view a patient's medical history, recent lab work and high-resolution digital X-rays. Like other Wi-Fi devices, the iPad can connect to the Internet (with NetID) using MUSC's secure wireless network. Using the 9.7-inch, liquid crystal touchscreen display, users can access clinical information such as the eCarenet Viewer (OACIS), a system that manages assessment data such as patient vitals to medication management, and other hospital systems.

"Emergency medicine is unlike any of the other medical specialty practices. It demands a day-to-day functioning that's very different," said Raney, who uses his iPad's calendar, e-mail and the Citrix Receiver for downloading MUSC virtual apps like Adobe Reader, Practice Partner and Clinicals 2010--McKesson apps and Simonweb Paging. He also gets paid subscription apps like Epocrates, a popular drug reference resource or MedCalc, an online clinical calculator app, plus other tools.

As part of an ongoing six-month pilot, Raney and his staff are testing five iPads throughout the Adult ED. Raney uses the device to monitor the status of patient tracking boards in the adult and pediatric emergency departments and ART's Chest Pain Center.

Raney and his colleagues are impressed with the iPad's speed and multitasking abilities between apps.
As a manager, he can bring up details on all three tracking board sites and switch among them to check on the status of each board. As a physician, the iPad also can enhance the patient-physician experience by allowing him, as a physician, to communicate visually with his patient using video apps or to discuss a treatment plan using a digital X-ray or results of a bedside ultrasound.

Both Raney and Kratz can see other uses for the iPad, especially in resident and staff education. The device can allow house staff to access resources, review videos of procedures and materials to improve skills and competencies.
According to a Frost & Sullivan survey, the use of iPads in the workplace has been linked to increased employee productivity, reduced paperwork and increased revenue. In health care, it's linked to improved interaction and collaboration among patients and caregivers, reduced medical errors, shortened duration of patient visits and reduced overhead and costs.

iPads have made an impact in other businesses and professions including education, the legal profession, sports and music. And the cost for Apple's iPad 2 tablet is competitive, starting at $499, compared to other tablet computers such as the Samsung Galaxy Tab and Android Tablet.

According to Taylor, the challenge is finding a device that's compatible with a secure Webapps manager like the Citrix Receiver.

With the launch of the iPad 2 in March, the project will upgrade all new testing to include the second generation device. Starting in June, Kratz and his heart care team also will begin a new pilot with the iPad 2 for use with physicians in the Heart & Vascular Center's cardiothoracic intensive care and coronary care units.

OCIO director of Infrastructure's Kurt Nendorf supports technology expansion in this direction. "The goal within OCIO is to improve patient care through the use of applied technologies and devices. We have high hopes for iPad use on campus as a way for physicians to access the data they need, wherever they go. It's a small size and portability makes it ideal for bedside use as well as data access on the go."
iDevices group
To help support users of iPad and iPhone mobile devices, a iDevices work group was established on campus. The group is focused on programming iPad/iPhone applications, and also answers questions related to iDevices. The group meets at noon each Wednesday at the Colbert Education Center & Library. Contact Harold Mackey at mackey@musc.edu.