Bill Rust, in the Office of the OCIO-Information Services, died on May 4. Rust was born in Freeport, New York, on Jan. 18, 1960, to Dr. Wilbur C. Rust and Marian Jeppson Charm. A devout Christian and faithful reader of the Holy Bible, he was an active member of Catahedral of Praise.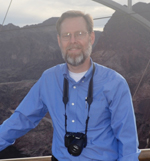 Bill Rust at Hoover Dam

Rust was the manager of technical services at MUSC and a certified project management professional. He also was awarded the designation Honorary Tar Heel by the governor of North Carolina prior to his move to Summerville.
While at MUSC, Rust was responsible for computer room operations, for more than 1,000 Windows and Unix servers and enterprise data storage.

"I had the honor of working with Bill almost 19 years and he was an extraordinary person. There is not a single person who knew Bill that didn't hold him in their highest regard," said Melissa Forinash, Office of the CIO. "He was a special colleague, mentor, and friend to all of us and he will be dearly missed."

He began his career in information technology at MUSC in October 1992. He was a systems analyst on the Oacis clinical data repository team. He was promoted to supervisor of the desktop services team in 1994, where he oversaw the development of the ClinLAN and Lynx managed desktop systems. He was promoted to his current position in 2005.
"It was an honor and a privilege to work with "my friend" Bill. Bill was the ultimate gentleman and will be missed by so many," said Hope Colyer, MUSC Marketin.

"He is and will always be the most wonderful person I have ever known," said Jack Hoffman, OCIO-IS, team leader.
Surviving are his wife, Laura Rust of Summerville; his parents; three sons, William Conner Rust, David Mark Rust, John Branton Rust, all of Summerville; and a daughter, Kathryn Laura Rust of Summerville.

Memorials may be made in memory of William Rust to Cathedral Academy, his children's school and where his wife serves as a fourth grade teacher, to the address: P.O. Box 41129, Charleston, S.C., 29423.