By Nicole Bernier
Ambulatory Care Services

In an effort to fortify the existing preceptor-training program and introduce content to address ongoing preceptor development, the Center for Education and Best Practice and the Ambulatory Care Performance Improvement (PI)and Staff Development Department joined forces to revise the program's content and format.

The combined effort was the result of months of hard work from Linda Randazzo, R.N., manager, Ambulatory Care PI and Staff Development; outpatient education specialists Susan Hamner, R.N., and Janice Hazy, R.N.; as well as clinical nurse educators Weatherly Brice, R.N., Kris Douglass, R.N., Melissa Dunkerley, R.N.; and Lisa Langdale, R.N., manager of the Center for Education and Best Practice.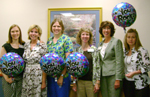 Outpatient education specialists received their own You Rock award. Normally, these specialists are the ones who award the You Rock to individuals or groups who excel in outstanding performance. You Rock awards were presented by Linda Randazzo, (second from right) manager, Ambulatory Care PI and Staff Development, to registered nurses Kris Douglass (from left), Lisa Langdale, Melissa Dunkerley, Susan Hamner, and Janice Hazy.

After much planning and deliberation, the new preceptor-training program titled "Mosby's Preceptor Program" was rolled out to the first group on June 2. In attendance were 19 nurses (many of them already preceptors), from various clinical areas, such as Emergency Medicine, Intensive Care, Medical-Surgical units and the Institute of Psychiatry.

The new format consists of a blended learning experience combining online learning (Mosby's Preceptor Course), preceptor assignments and a four hour interactive workshop. The program was well received by those who participated in the training. While the live session is currently geared toward nurses, the online learning component is available to all disciplines upon request.

If interested in the new Mosby's Preceptor Course, contact your supervisor to gain access to the online lessons in CATTS. This program will be offered regularly throughout the year with the next classroom session scheduled for Aug. 11.