By Dawn Brazell
Public Relations

Sometimes Michael Sweat, Ph.D., has to eat goat. It's not a favorite part of the MUSC researcher's job in Africa, but he understands why it's necessary.

"It's a big cultural thing for them to have these big cookouts with a big goat they've slaughtered, and you're the honored guest so you have to eat these big chunks of goat they're giving you."

Sweat grimaces, but then grins. His willingness to respect the local customs is one reason he and a team of researchers have had success in an ambitious, eight-year HIV study that was recently published in Online First "The Lancet Infectious Diseases." Interim findings from the National Institute in Mental Health's (NIMH) Project Accept combined data from 10 communities in Tanzania, eight in Zimbabwe and 14 in Thailand.
Dr. Michael Sweat holds up a Tanzania map where he oversaw a research team.

Thrilled the study shows the value of community-based voluntary counseling and testing (CBVCT), Sweat sees this as another step in changing social policy to put a dent in the tide of the AIDS epidemic that just keeps going. With an estimated 2.8 million new HIV infections in sub-Saharan Africa in the past year alone, 24.7 million Africans are now living with the virus.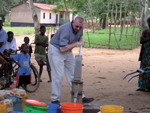 Dr. Michael Sweat gets water using a hand pump. This is the type of setting researchers sought out to provide intervention for local villagers.

"It's a big problem. There's a huge mortality. There are a lot of orphans from AIDS. There are a lot of widows and people affected. There are about 9 million people in Africa who are infected and don't have access to treatment. There's a big need to do something about it. Our intervention has a lot of treatment implications."

The goal is to get people to reduce risk-taking behavior and therefore slow down the transmission of HIV, but also to get them on treatment because that's a life-saving intervention, he said. Their study examined the impact of reaching out to rural communities in creative ways through a four pronged approach involved in CBVCT. They were:

Doing mobile HIV testing to reach isolated communities set up in highly visible sites, such as the center of villages or water pumps, where villagers were likely to congregate;

Enlisting local community support for greater "buy in" and encouraging fun ways to do outreach, such as skits and community events;

Performing post-testing support to encourage people to disclose status and to better serve the extensive psycho-social needs of those infected and;

Using social marketing techniques, such as feedback loops in the management system, to constantly monitor the strengths and weakness of the program, and make changes as you go. This strategy borrows techniques used by companies such as Coca-Cola.



"You can go to any developing country in the world and buy a Coke, and there's a reason for that. These companies know how to do it. They know how to get people excited about it. They know how to brand these products and make sure the logistics are in place to get the commodities there. We borrowed that model. If you can do that in this area, you can also do it in health."

Interim findings support what they did worked.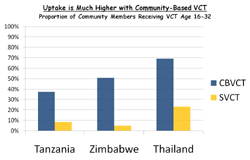 Sweat, who is director of MUSC's Family Service Research Center in the Institute of Psychiatry, said he had a Tanzanian local staff of 100 and eight vehicles. One of four U.S. principal investigators on the multi-country study, Sweat leads the Tanzania team. He and his group had to create maps of the Tanzanian areas they served by driving around with GPS and manually recording where every home was located. They did more than 9,000 interviews and got blood samples using an exciting new technology that allows them to see whether an infected person has a new infection or not—important information in determining transmission patterns.

"This was like a dream study. These are all people I've worked with for years," said Sweat, whose impressive resume includes work with the Centers for Disease Control and Prevention, Family Health International and 12 years at the Department of International Health at John Hopkins University.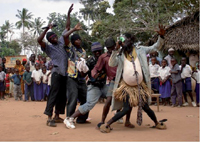 This community outreach project involved an educational skit about how women can pass the HIV virus to their infants.

"It was one of NIMH's biggest studies. It took a long time and a lot of effort, but it was great. We had the best of the best. We have a statistics center in Prague who handles a lot of our biostats. We have a data management center in India that was fantastic. We have a lab at Johns Hopkins that handles a lot of the laboratory work. It was cool."

There are 52,000 blood samples being shipped from five sites in four countries to Baltimore for analysis, so in about a year, the group will be publishing another paper analyzing if transmission rates have dropped.

"We hope it reduces the number of new infections of HIV. If this were to do that, that would mean this intervention could be replicated and could slow this epidemic down. That would be so important. It would lead to a policy change and people would start doing more door-to-door testing—this mobile provision in rural areas."

Sweat said the way they did mobilization created a positive energy about being tested. "It became normative to get tested—everyone was doing it. A lot of people felt safe doing it. But I also think putting it where people lived made the difference. It's a very poor region and a lot of people have to walk to get to the clinics. It can be a four-hour walk."

One of the goals of the project was to destigmatize the process of getting tested, and Sweat knows they were successful in challenging the concept that HIV testing centers should be hidden away.

"We went in the totally opposite direction and said we're not going to hide. We're going right in the middle of the village next to where people get their water or gather. We want people to visibly have to walk in the door and be seen by other people. It made it safe for other people, and we got huge numbers of people coming."

Bringing up Malcolm Gladwell's book "The Tipping Point," Sweat said the study was not just about doing "lots of testing" but about affecting cultural change

"It was the idea that you change norms in the community—that if you get to a critical mass to a certain tipping point that Gladwell writes about in his book—where people are talking about it, then you'll have less transmission from HIV."

It's news that the United States can use, since research is showing the AIDS epidemic in the United States is more concentrated among the poor, a factor that has played out globally. Many of the big breakthroughs the field has had were discovered by researchers doing work in developing countries.

"It is also notable that since the rates of HIV infection are so high in many developing countries, it is much easier to detect if they work there. This allows us to benefit from this knowledge in the U.S."

Sweat likes how international research can shed light on health disparities at home. Having already submitted another grant proposal, Sweat said MUSC's focus on globalization is impressive and that he has found it to be a supportive environment. It probably means eating more goat in his future.
For more information:
Project Accept is the first international randomized controlled Phase III trial to determine the efficacy of a behavioral or social science intervention concerning the incidence of HIV. The Project Accept website is http://www.cbvct.med.ucla.edu/.

For the full text version of the study published in Online First in "The Lancet Infectious Diseases," visit http://www.thelancet.com/journals/laninf/article/PIIS1473-3099(11)70060-3/fulltext.
Spotlight on Research
In the study, communities in each setting were paired according to demographic characteristics, and one of each pair was then randomized to receive either standard, clinic-based voluntary counselling and testing SVCT alone, or SVCT and community-based voluntary counselling and testing (CBVCT).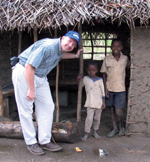 The researchers found that the proportion of people receiving their first HIV test from the study was higher in CBVCT communities than in SVCT communities in Tanzania (37 percent vs 9 percent), Zimbabwe (51 percent vs 5 percent), and Thailand (69 percent vs 23 percent).

Repeat HIV testing in CBVCT communities increased to reach an average of 28 percent across the three countries.