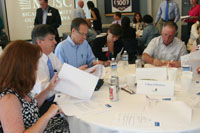 S.C. College of Pharmacy MUSC campus staff and faculty review feedback from the MUSC Employee Satisfaction Survey Results. The review was part of the university's Leadership Development Institute.


PEOPLE
David B. Adams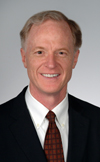 David Adams, M.D, has been appointed co-medical director of the Digestive Disease Center service line. Adams will assume strategic leadership and planning roles for the Digestive Disease Center, working closely with MUSC, MUHA and UMA leadership. Adams is chief of the Division of Gastrointestinal and Laparoscopic Surgery, professor of surgery and is currently course director of the MUSC Annual Postgraduate Course in Surgery.


K. Mark Payne
Mark Payne, M.D., has been appointed co-medical director of the Digestive Disease Center service line. Payne will assume strategic leadership and planning roles for the Digestive Disease Center, working closely with MUSC, MUHA and UMA leadership. Payne is chief of the Division of Gastroenterology and Hepatology, director of the Gastrointestinal Endoscopy Service and professor of gastroenterology at MUSC.


Elizabeth Pilcher
Elizabeth S. Pilcher, DMD, assistant dean for institutional effectiveness, and professor, Department of Oral Rehabilitation, College of Dental Medicine, was accepted into the Hedwig van Ameringen Executive Leadership in Academic Medicine (ELAM) Program for Women at Drexel University College of Medicine. ELAM is the only national program dedicated to preparing senior women faculty for leadership at academic health centers. The ELAM curriculum adapts lessons in executive management and institutional leadership, such as strategic finance, organizational dynamics, and personal and professional effectiveness, to the academic health center environment.
K. Jackson Thomas


K. Jackson Thomas, Ed.D., was presented the Dorothy E. Baethke-Eleanor J. Carlin Award. The award was established in 1981 and is given to an individual who has made significant contributions to physical therapy education through teaching excellence as exemplified in the careers of Baethke and Carlin. Baethke was a pioneer in physical therapy and died in 1984. Carlin was known as a leader in quality physical therapy education and died in 1997. Thomas is a physical therapist and professor in the College of Health Professions and has been a faculty member since 1988.

Reaching out to others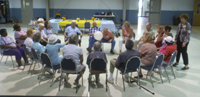 Left photo: Department of Pediatrics employees Becky Eraybar, Sharon Kest, Robin Rose and Melanie Townsend spend time with individuals at the West Ashley's Respite Care Ministries as part of the department's community involvement June 7. Pediatric personnel partnered with individuals suffering from dementia to help with arts and crafts, exercise routines, and feed them a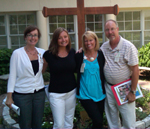 small lunch. Right photo: Pediatric employees Connie Harbert, Cat Sandifer, Suzanne Scott and Richard Anderson volunteer at John's Island Respite Care Ministries.

EVENTS
Special Olympics Run
The Second Annual Special Olympics 5K Run will begin at 8 a.m. July 9 on Folly Beach. The entry fee, with all funds raised going toward Special Olympics South Carolina, is $30 for adults and $15 for children under 11. For information, email Meaghan McNamara at mcnamarm@musc.edu. To register, visit http://www.active.com/event_detail.cfm?event_id=1967369.

Diversity Workshop
The National Coalition Building Institute Welcoming Diversity Workshop will be held July 20 in the Harper Student Center Auditorium. The training session is designed to introduce participants to various aspects of diversity which include identifying information and misinformation about other groups, learning the personal impact of specific incidents of discrimination and how to interrupt remarks. Register at https://academicdepartments.musc.edu/ncbi/register/registration.html.
Your PIe for Our Kids
MUSC's Craniofacial Clinic Fundraiser: July 21 at Your Pie, 975 Savannah Highway (next to Coburg Cow) 5 to 9 p.m. Food, games and prizes. A portion of the proceeds form the event will go to the Craniofacial Clinic. Call Sherry Cannon at 792-3251 or email cannonss@musc.edu for information.

Nominations Needed
Employees have until July 5 to make a nomination for the medical center's Employee of the Year for 2011. The Employee of the Year award is designed to recognize an employee whose daily actions and contributions to staff, patients, and guests of MUSC are characteristics of "above and beyond" performance expectations.
Visit https://www.musc.edu/medcenter/eoy/nomination.html#form and fill out the form.

Your Reflections?
If you have a book or website you'd like to review or recommend to colleagues, send in your reflections to: Dawn Brazell at brazell@musc.edu.