Effective July 1, Chandler's Law regarding children and all-terrain vehicle (ATV) riding will be implemented to decrease the rapidly rising number of ATV-related injuries and deaths in South Carolina.

It's an example of how MUSC employees involved in legislative advocacy work can end in a positive way, said Maggie Michael, executive director of the Children's Hospital Collaborative and director for the Center for Child Advocacy who helped push the legislation.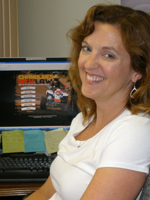 Maggie Michael
"You have to be the squeaky wheel," she said. "You have to build influence to affect public policy and create change."

Forty-four states have enacted ATV riding laws for children, and many of these states have seen reductions in the number of ATV deaths and accidents since those laws went on the books. The law becoming effective could not be timelier, with the death of 11-year-old Kershaw resident Kyle Kelly on June 25 from not wearing a helmet and riding the wrong size ATV.

While the American Academy of Pediatrics promotes the idea that no child under 16 should operate an ATV, the South Carolina legislature has initiated a different approach for this largely rural state. A full copy of the law can be found at http://www.ChandlersATVlaw.com.

Fred Tecklenburg, M.D., children's hospital pediatric intensive care unit medical director, said the hospital has treated numerous children with fatal or serious injuries as a result of riding ATVs that were not the right size for their age or most often, because they were unsupervised and not wearing safety gear when riding.

"We're supporting this law at MUSC, because it's a step in the right direction. My hope is that this law will mean I see fewer children with life-altering injuries, or worse, children dying as a result of riding on ATVs."

In an effort to make sure that all current and future riders and their parents are familiar with the law, the South Carolina Children's Hospital Collaborative, of which MUSC is a founding member, has created a website, ChandlersATVlaw.com, to educate the public on the law and provide information on training sites around the state. SafeKids South Carolina, S.C. Department of Health and Environmental Control and the University of South Carolina's Children's Law Center were also instrumental in helping the collaborative initiate and implement communication efforts regarding the new law.
Pam and Steve Saylor worked for more than eight years to get Chandler's Law passed. They lost their 16-year-old son, Chandler, in an ATV accident in 2003.

The focus of these educational efforts is to communicate to parents who choose to let their children ride ATVs that they are legally responsible for what their child does or doesn't do when riding. In addition, the group wants parents to promote the idea of adventure and safety coexisting together to reduce ATV injuries and deaths.

No one knows this message better than Pam Saylor, Chandler's mother who has worked for more than eight years with her husband, Steve, to get the bill passed. They lost their 16-year-old son, Chandler, in an ATV accident in 2003.
"This law is not about trying to judge people or tell them what to do for the sake of telling them what to do," said his mother.

"This law is about making children in our state safer. ATVs are here, and they aren't going anywhere. Chandler's Law protects children by requiring that they are riding the right size ATV for their age, wearing the right safety gear and getting the proper training to operate an ATV. Parents have the power to create better, safer riders. We hope that parents across the state will join us in reducing the number of ATV tragedies and life-altering accidents involving the children of South Carolina."

To see more of the Saylors' story and why they worked for an ATV law, go to http://www.ChandlersATVlaw.com.
Rules of the road for all-terrain vehicles
Always wear a Department of Transportation-compliant helmet, goggles, long sleeves, long pants, over-the-ankle boots, and gloves.
Never ride on paved roads except to cross when done safely and permitted by law. ATVs are designed to be operated off-highway.

Never carry a passenger on a single-rider ATV, and no more than one passenger on an ATV specifically designed for two people.

Ride an ATV that's right for your age.
Ride only on designated trails and at a safe speed.
Supervise riders younger than 16; ATVs are not toys.
Chandler's Law requires that children complete a hands-on ATV safety training course approved by the ATV Safety Institute.
Visit http://www.ATVsafety.org or call 800-887-2887.