Employees of the Month
Jeanne Barreira, Lactation Center


"I'd like to nominate Jeanne Barreira for employee of the month. I feel all lactation consultants (LC) are the "unsung heroes" of the child birth experience. Breastfeeding is a natural but often difficult thing. In my experience, everything went well in the hospital, but after going home and to the pediatrician, my son wasn't gaining weight. Jeanne really helped coach me through this difficult time. (The pediatrician was worried about his weight (jaundice /dehydration) and wanted me to supplement.) Jeanne was so supportive. She corresponded by email and phone to answer all my questions from cluster feeding to "is this normal?" She even met me for an "ad hoc" consultation one day with me and my son. One Friday we were corresponding, and I knew the weekend was coming up and she'd be off. I was a little anxious. She gave me her cell phone number. She mentioned she was going her son's football game, but for me to call her for anything and that she didn't mind. She also would email me just to check in and make sure we were doing OK periodically. When you are discharged from the hospital, you're given a contact sheet for the LC group; however, I am still asking for support from Jeanne and emailing questions…nine months later (clearly she is going above and beyond). If it wasn't for Jeanne's encouragement and support, I know I would not be breastfeeding and especially for this long. She is a wonderful resource and support. I am truly grateful for everything she has done for us, as she has made it possible for me to provide my child the best nourishment in his first year!"
Nominated by Meredith Strehle

Melissa Davis, Meduflex Team


"Saturday, April 9 Missy was outside during her break and saw an elderly woman fall on her face on the Horseshoe sidewalk. When Missy saw her injuries, she knew the woman had to go to the emergency room. The women's sister is a patient so Missy used her cell phone to call the patient's room so the woman could let her sister know she would be delayed but was all right. Missy spoke with the sister and assured her that the woman was fine. Missy promised the woman she would visit the sister to add more reassurance. She then followed up and visited the patient without delay."
Nominated by Angel Orechovesky

William Nelson, Safety & Security


"Willie overheard a man saying he couldn't find a job. He told the man not to give up and asked him if he had tried any other places in the hospital other than housekeeping. The gentleman said no. Willie took the man to the cafeteria office where some dietary managers were inside. Willie told them that the gentleman was looking for a job. He then left the man in the cafeteria filling out an application. Thanks Willie, you are a shining star."
Nominated by Shinika Phillips

DAISY winners work as a team
The MUSC DAISY (Diseases Attacking the Immune System) Award for Nurses is a monthly award and is part of the DAISY Foundation's program to recognize the super-human efforts nurses perform every day. The foundation was formed in January 2000 by the family of J. Patrick Barnes. Barnes died of complications of idiopathic thrombocytopenic purpura. MUSC is among 400 medical facilities honoring nurses with The DAISY Award. One initiative of the foundation's goal is to help fight diseases of the immune system.

Jessica Bullington and Brittany Perry
"This was truly a multidisciplinary coordinated effort on the part of Brittany and Jess. Our patient, "Smiles," has a long psychiatric history, an organic brain injury and no motor function on her left side because of a stroke. Her caretaker died suddenly and there was no one to care her.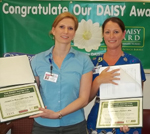 8E nurses Jessica Bullington, left, and Brittany Perry are the May DAISY winners. Each winner received an African Shona Tribe sculpture titled, "A Healer's Touch," a framed certificate, and a DAISY Award pin. The DAISY Foundation also delivered cinnamon rolls to all the nurses in the unit.

Smiles could not feed herself much less provide any basics of care. Jess and Brittany had to help this patient grieve, control her anger, be confidential from press, family and visitors. Jess spent the better part of an hour coordinating care from medicine and psychiatric services incorporating Institute of Psychiatry -level of care on 8E, that included developing a plan regarding telephone use.

Jess consulted with the psychiatric liaison registered nurse. The next step was educating all staff on the issues so that a cohesive plan of care was established. Brittany met with the case manager and social worker with the directive to get the patient to the funeral. Brittany had the medical doctors write the order so that legally the patient could leave the grounds yet have the order opened-ended enough for the timing to be adjusted as needed.

Their decisions were based on what was right for Smiles. The next day, Jess and Brittany found out that a wake for caregiver was being held and made arrangements to get Smiles to this wake. Her hair had to be fixed, clothes brought in, anti-anxiety and anti-psychotics medicines timed appropriately, and transportation, liability issues and the like had to be coordinated by Jess and Brittany. All the while Jess had three to four other acutely ill patients for whom to care and Brittany, as the charge nurse, had 26 patients and 10 to 11 staff to oversee.

These nurses performed all these tasks, and oversaw the coordination of care and the integration of the needs of the patient and family and community with grace. Just what 8E nurses do every day."
Nominated by Cindy Little and chosen as the DAISY winners through a blind vote by the Nurse Alliance Leadership Council. Nurses may be nominated online at http://www.musc.edu/medcenter/formsToolbox/DaisyAward/index.htm