Prabhakar Baliga, M.D., became the first person to be named to the Fitts-Raja Endowed Chair in Transplant Surgery June 9 during a banquet at Marion's in the French Quarter.

The Fitts-Raja Endowed Chair in Transplant Surgery was created in 2007 to honor both Drs. P.R. Rajagopalan and Charles Thomas Fitts, who had worked together for nearly 30 years developing what is the state's only transplant program. The Transplant Program completed its 1,000th liver transplant in March and has performed more than 4,000 kidney transplants since 1968, when Fitts performed the first one at MUSC.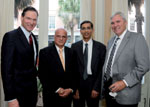 More than 100 people attended the banquet where patient Laura Phillipps praised the work of Baliga and other "heroes" who have made the lives of those in dire need of kidney transplants, such as herself, so much better. (See her story left.)

MUSC President Dr. Ray Greenberg (left) at the banquet with Drs. P.R. Rajagopalan, Prabhakar Baliga and David Cole, chair of the Department of Surgery.
President Ray Greenberg, M.D., Ph.D., said the event represented an appropriate tribute to two surgeons who epitomize the highest standards and values of the medical profession and was a fitting honor for Baliga.

"He embodies the perfect blend of admirable qualities that made Drs. Fitts and Raja notable and he is an exemplary role model for future generations. Dr. Prabhakar Baliga has distinguished himself nationally and has contributed greatly to the Transplant Program, the MUSC community and the patients we serve from all over South Carolina and beyond."

Baliga graduated from Madras Medical College, Madras University in Dec. 1982, completed his general surgery residency at Tulane University, and then went to University of Michigan where he completed his training in Transplant Surgery and Critical Care.

Offered a position in July 1992 at MUSC, he was tasked with building both a pediatric liver transplant program and an intestinal transplant program. Since he began his career at MUSC, he has been named Director of Transplant program and has built the program to conduct almost 80 liver transplants per year.

The kidney transplant program has also grown steadily and conducts almost 200 transplants a year. The kidney transplant program as been ranked a premier program by at least one national consortium.

David J. Cole, chair of the Department of Surgery, said that Baliga has developed a transplant program of which the entire state and region can be proud. "Holding this endowed chair will allow the team of scientists and physicians he has recruited to continue their research collaborations, attract knowledgeable and experienced faculty to the teams, build the appropriate infrastructure for further discovery, and promote more extensive collaborations within the university and in the nation."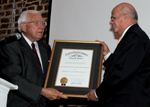 Also at the June 9 event, Rajagopalan (Raja) received the Order of Palmetto presented by Dr. James B. Edwards, former S.C. Governor and President Emeritus of MUSC.

Dr. James B. Edwards, left, presents Dr. Rajagopalan with the Order of Palmetto award.
Baliga in his nomination letter for Rajagopalan said that Rajagopalan has been a tireless champion working to improve the health of transplant patients. "He has a national reputation for the quality of care that he provides, which frequently results in his taking care of patients where other surgeons have failed. He is the patient's strongest voice and advocate. Dr. Raja treats each individual with such loving care, compassion and dignity that they reach out for him from all over the state. He has received several Quality Awards for his level of care over the years."
Patient thanks efforts of transplant team
Editor's Note: The following is an excerpt from a speech by patient Laura Phillipps made at the June 9 banquet.

First, I want to tell you how honored and excited I am to have been invited to speak tonight.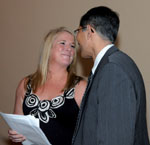 Patient Laura Phillipps shares a special moment with Dr. Prabhakar Baliga at the banquet.
Dr. Baliga and the rest of the transplant team are my heroes, my earthly angels. They are medical geniuses and together form an amazing transplant team that has given me a new lease on life—twice.

Thirteen years ago, I was a junior in high school, studying hard and playing harder. In December of 1998, my life changed forever. I was diagnosed with end stage renal failure and told I would need a kidney transplant. To a 16-year-old who was playing basketball just days before, this news should have been extremely overwhelming.

However, I can remember thinking to myself, "Oh, a transplant, I can totally handle one of those!" Then, when I learned the details of dialysis and realized I would be married to a machine until a kidney became available, the news did not seem so simple anymore. For the last six months of my junior year, I was on peritoneal dialysis. For eight to 10 hours a night, I was restricted to my machine, which kept me from spending the night with friends, a freedom every teenager - and parent – deserves.
In June of 1999, my Aunt Laura donated a kidney to me. Her gift allowed me the chance to live a much more normal teenage and young adult life. You cannot believe the opportunities I now had because of what Laura sacrificed for me. I celebrated the new millennium just as one might expect any high school senior to do. After a great spring and fabulous summer in 2000, I went on to Wofford College, and trust me, I had the typical college experience. While in college, I also had the chance to study abroad in Florence, Italy, for one whole semester and travel all over Europe while I was there. Also, for my senior year, I traveled throughout Peru. Those experiences are ones I would never trade, and I would not have had those opportunities without a transplant.

After college, I moved to Charlotte and lived the best three years any young adult could wish for. I had my first job out of college, a new apartment in a complex full of friends, and we went out all the time. But here is where my story changes again. While in Charlotte, just about three years ago, I lost my aunt's kidney, and had to move back to Charleston and into my parent's house. While I love my parents and appreciate all of their support, trust me, this transition was definitely not easy. Not only was I living at home at 25, but I was also on dialysis, and this time, I opted for hemodialysis. When you have renal failure, there are two options - dialysis or transplantation, and I would not wish dialysis on my worst enemy, especially hemodialysis. It is physically draining, mentally taxing, and emotionally exhausting. That said, I accepted that dialysis would be my future.

Since I had already had a transplant, the chances of finding a match were pretty slim. Luckily, I am blessed with an abnormal amount of positive energy, so I dealt with the news, and moved on as best I could, which only makes this next piece to my life's puzzle that much more exciting. On April 26th of this year, I received a phone call from an unknown number at 10:30 p.m. So, as most of us do, I ignored it. Then one minute later, I received another call from a 792 number. Since most of you are MUSC affiliated, you probably know what this means, but let me explain just because it was the best call of my life. I answered and it was one of your colleagues calling to let me know that, against all odds, there appeared to be a match. They wanted me at the hospital the next morning at 7 a.m. for more testing.

I could not believe it. I was in shock because that was the last thing I ever expected. I always prayed for it, but never actually thought it could happen a second time. But guess what, on April 27th, 2011, Dr. Baliga once again worked his magic on me. He took this cadaver kidney and with his gifted hands transplanted it into me and simultaneously gave me my life back. It has been almost seven weeks since the operation and every day gets better and better.

When I sit back and reflect upon this organ a stranger has given me, I am overwhelmed with gratitude, not only for the ultimate gift the donor gave me, but also for the blessings that Dr. Baliga and the transplant team have been in my life. I have now known Dr. Baliga for over half of my life. He is like family to me and my family. He has given me the best gift he could give me - the gift of being normal. Because he is who he is and he does what he does, I am finally able to be myself again. MUSC is lucky to have him. He is a blessing to me and every patient he encounters. I am forever indebted to him, and, depending on how much water I drink, think of him four to twelve times a day."