The university's Finance & Administration Division recognized staff from the Engineering & Facilities, Finance, and Operations departments who were nominated during the third quarter for their commitment to MUSC Excellence.
Employees of the Quarter
Kenneth Singleton and Richard Robinson, Carpenter Shop (Engineering & Facilities)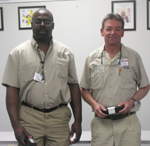 Kenneth Singleton, left, and Richard Robinson
"I happened upon Kenneth Singleton and Richard Robinson assisting a patient outside the College of Dental Medicine. The woman's family had dropped her off and gone to park their car. She was unsure of where she was going and Mr. Singleton and Mr. Robinson escorted her to the dental school, each bracing one of her arms to assist her and Mr. Robinson carrying her purse. They stayed with the patient until they were assured she would receive care."
Nominated by Mark Brown, Engineering & Facilities

Andrea (Jenny) Johnson, Employee Health Services


"During Jenny's first week of work she wanted to start the process of new applicants completing online paperwork prior to their appointment. This is a time saver for candidates and decreases wait times in our office. The database we use is challenging to learn and Jenny embraced this project willingly and was excited about it. She is an asset to our department and a pleasure to have on our team."
Nominated by Cheryl Brian, Operations

Rosalind Giddens, Purchasing and Accounts Payable

"Rosalind is an outstanding example of MUSC Excellence. Most recently, she went far past what was required to make sure that the Request for Proposal (RFP) for a new e-Procurement System got through all the hurdles at the State Information Technology Management Office. When the state buyer resigned from his position and we were assigned another buyer, she worked one-on-one with him to make sure everything moved forward. She single-handedly developed a detailed and very complicated set of specifications. Without Rosalind this would never have happened. We are all indebted to Rosalind for the outstanding job she did."
Nominated by Betty Sandifer, Finance

PEER Milestone recipients
David Baxley, Employee Health Services; Diane Campbell, University Postal Services; Arthur (Mason) Fayne, Engineering & Facilities; Jacquetta Gethers, Student Accounting; Miriam Gibson, Human Resources; Patrice Gordon, Human Resources; Terry Harmon, Controller's Office; Tessie Lee, Controller's Office; Emily Mills, Controller's Office; Donna Rychwa, Controller's Office; Ashley Rice, Human Resources; Kathleen Williams, Controller's Office; and Tarsha Williams-Smalls, Human Resources.