A fundraiser showcasing Stephen Colbert, host of Comedy Central's "The Colbert Report," July 1 raised money for an endowed chair named in his father's memory at the medical university.

During "An Evening with Stephen Colbert," the Charleston native sat down with MSNBC's Jonathan Alter for a wide-ranging interview about his childhood, family, politics, religion, dramatic technique and the character he portrays on "The Colbert Report."

About 2,000 guests attended the show at Gaillard Municipal Auditorium, which grossed more than $100,000 to benefit the Dr. James W. Colbert Endowed Chair.
S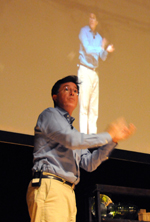 tephen Colbert at the Gaillard Auditorium July 1.

Dr. James Colbert served as the university's first vice president for academic affairs from 1969 until his death in a plane crash in 1974. The Dr. James W. Colbert Endowed Chair will support in perpetuity the work of the vice president of academic affairs and provost, a post now held by Mark Sothmann, Ph.D.

The endowed chair will provide Sothmann and his successors the funds to pursue special initiatives that otherwise might not be economically feasible, especially those that promote greater interaction and collaboration among students and faculty from all six of the university's colleges.

Vice President for Development Jim Fisher said the benefit's success was made even more impressive by the fact that it almost didn't happen. The day of the show, the flights into Charleston for Colbert and Alter were cancelled. They were able to find seats on two separate flights into Charlotte, where they rented two cars and made the four-hour drive to Charleston. Alter arrived just minutes before the show began.

"We were all incredibly relieved to see them walk through the door at the end of the day," said Fisher, "but we were equally inspired and moved that they would go to such lengths to be here for this benefit. I think that says a great deal about Stephen's devotion to his father's endowed chair."