MUSC has been named by U.S. News & World Report as one of the country's best hospitals in the treatment of gastrointestinal disorders and ear, nose and throat disorders.

In addition to these national rankings, MUSC is "high-performing" in treating kidney disorders, gynecologic disorders, orthopaedics and rheumatology. Treatment programs for cancer, cardiology and heart surgery, neurology and neurosurgery, psychiatry, pulmonology, geriatrics and urology also were considered high-performing.

New this year are rankings of other area hospitals.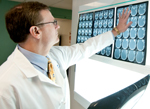 Dr. Paul Lambert in the Department of Otolaryngology - Head and Neck Surgery, one of MUSC's specialty areas cited in the latest U.S. News & World Report.

MUSC was ranked first for the Charleston-North Charleston-Summerville metro area. The new rankings recognize 622 hospitals in or near major cities with a record of high performance in key medical specialties, including 132 of the 152 hospitals already identified as the best in the nation. There are nearly 5,000 hospitals nationwide. To be ranked in its metro area, a hospital had to score in the top 25 percent among its peers in at least one of 16 medical specialties.
Health Rankings editor Avery Comarow said all of these hospitals provide first-rate care for the majority of patients, even those with serious conditions or who need demanding procedures. "The new Best Hospitals metro rankings can tell you which hospitals are worth considering for most medical problems if you live in or near a major metro area."

The rankings, annually published by U.S. News for the past 22 years, will also be featured in the U.S. News Best Hospitals guidebook, which will go on sale Aug. 30.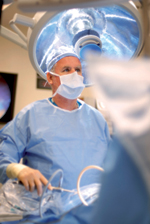 Dr. T. Karl Byrne is part of the team involved in treating gastrointestinal disorders.

Highlights from this year's rankings include:

Gastrointestinal disorders ranks for 15th consecutive year

Cancer, cardiology and heart surgery, geriatrics, neurology and neurosurgery and psychiatry recognized for the first time



Thomas Uhde, M.D., chairman of the Department of Psychiatry and Behavioral Sciences and executive director of the Institute of Psychiatry, said it's rewarding to learn that their physician colleagues recognize the department's high performance in delivering mental health care.

"In terms of competitive federal research funding by the National Institutes of Health, which is the gold standard of research excellence, we are among the top 10 nationally ranked research departments of psychiatry in the United States."
Dr. Mark George in the Institute of Psychiatry's Department of Psychiatry and Behavioral Sciences shows off the newly developed transcranial magnetic stimulation machine.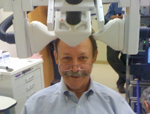 Sometimes clinicians do not always appreciate where new treatments were originally discovered, developed and refined for widespread use in the community, he said.

"Our identification as a high-performing program indicates that our physician colleagues have gained an increased appreciation for our expertise in not only discovering but also delivering innovative treatments. Some of our treatments for severe depression can literally be provided only at MUSC and, at the moment, in no other place in the world."

MUSC President Ray Greenberg, M.D., Ph.D., said it's rewarding that the outstanding care delivered by MUSC faculty and staff is garnering such national attention. "All South Carolinians can depend on the high quality of services being delivered at our hospital and through graduates of our training programs throughout the state."

Since 1990, the magazine has identified medical centers with unique capabilities in one or more areas. This year, the exclusive magazine reviewed data from 4,852 hospitals and selected 152 stellar medical centers in 16 specialty areas for the national rankings. Rankings and eligibility are driven by hard data, including reputation, death rate, patient safety, and care-related factors such as nursing and patient services.

This year's rankings may be viewed at http://www.usnews.com/besthospitals.

Pat Cawley, M.D., MUHA executive medical director, said he likes how the rankings have expanded.

"Here in Charleston, we're easily recognized as the hospital that you want to go to for the hardest problems and most difficult-to-treat cases," he said. "What these new metro rankings show our community is that in addition to taking the hardest cases, we also provide excellent care for more routine procedures and treatments. With this number one designation for our area, our neighbors can rest easy knowing that we can deliver an excellent standard of care, no matter what brings them to us."
Want to see the scores?
The rankings, annually published by U.S. News for the past 22 years, will also be featured in the U.S. News Best Hospitals guidebook, which will go on sale Aug. 30. This year's rankings may be viewed at http://www.usnews.com/besthospitals.
To see MUSC scores and rankings, go to http://health.usnews.com/best-hospitals/medical-university-of-south-carolina-6370085.