By Roby Hill
S.C. Colleg of Pharmacy, MUSC Campus

Igor Roninson, Ph.D., makes the Dos Equis' "Most Interesting Man in the World" guy look dull.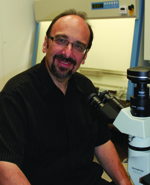 Dr. Igor Roninson

Roninson joined the South Carolina College of Pharmacy (SCCP) at the beginning of April, and he has brought with him international prestige, a biotechnology company, nearly a dozen scientists/positions and a groundbreaking research program in cancer therapeutics.

Winner of the American Association for Cancer Research (AACR) Award for Meritorious Achievement in Cancer Research and the Life Extension Prize from the Regenerative Medicine Secretariat, the internationally-acclaimed scientist-educator is the new South Carolina Centers for Economic Excellence (CoEE) Endowed Chair in Translational Cancer Therapeutics at SCCP. His program, based out of the University of South Carolina (USC) campus of SCCP, will carve out new territory in the fight against cancer and offer new hope through discovery of novel drugs and targets.
His work in pharmacogenomics—the study of how an individual's genes affect the body's response to drugs—could be particularly important to minority populations understudied in clinical trials.

"Dr. Roninson is internationally recognized for his many research accomplishments in the cancer field including multidrug resistance in cancer and chemotherapy-induced senescence in tumor cells," said Kim Creek, assistant chair of the SCCP's Department of Pharmaceutical and Biomedical Sciences (PBS). "Dr. Roninson's research program in translational cancer therapeutics will lead to the development of novel drugs and approaches for the treatment of cancer that will provide new hope to cancer patients in South Carolina and the nation."

With 30 years' experience in academia and biotechnology, including more than 150 published articles and 39 issued U.S. patents, Roninson is an ideal addition to the SCCP's accomplished research faculty. Roninson is the fifth endowed chair at the College, joining Chuck Smith (drug discovery), John Lemasters (cell injury, death and regeneration), Charles Bennett (medication safety and efficacy), and Patrick Woster (drug discovery).

"My main reasons for coming to South Carolina come from the people I interacted with and the collaborative efforts," said the Moscow-born Roninson, whose wife Eugenia Broude and colleague Misha Shtutman will join the college as faculty members.

"The only way to make this kind of biomedical research work is to spread a collaborative umbrella. In this regard, the College of Pharmacy is unique in that it merges two independent universities. I could clearly feel how things actually worked between Columbia and Charleston and the Greenville Hospital. There is an umbrella of different institutions working together and that is what really brought me here."

In addition to various South Carolina research partners such as Clemson University, Roninson will also be working with colleagues at the Georgia Health Sciences University and David H. Murdock Research Institute (Kannapolis, N.C.), among others. Roninson joins the SCCP from the Cancer Center at Ordway Research Institute in Albany, N.Y. and will hold the rank of full professor with tenure at both MUSC and USC, pending approvals by the respective boards of trustees. He also will hold affiliate status in the Center for Colon Cancer Research at USC and the Hollings Cancer Center at MUSC.

Joseph T. DiPiro, Pharm.D., executive dean of the SCCP said Roninson is an ideal match for the translational cancer therapeutics chair. "His innovative thinking in the lab and in the classroom will be a major benefit not only to the college and to our students but also the state of South Carolina. Our research program is recognized as one of the best and Dr. Roninson will enhance it even further."

In 2010, the SCCP was ranked third in the country in percent of Ph.D. faculty with National Institutes for Health funding.
Roninson was attracted to the college by opportunities for collaboration with excellent scientists who had similiar interests in drug discovery and experimental oncology, and cited the senior faculty recruiting program supported by USC Provost Michael Amiridis as evidence that South Carolina would not stagnate in biomedical research despite a difficult economy.

Senex Biotechnology Inc., the company of which Roninson is president and chief scientific officer, will be part of that growth as it relocates to Columbia. Senex means "old" in Latin and the name reflects Roninson's research into cellular senescence. Senescent cells stop dividing but don't die, and instead begin to secrete proteins that contribute to cancer growth and other age-related diseases. Senex has used its screening technology to develop two classes of preclinical CKI pathway inhibitors which help prevent those effects.

"We see great opportunities for two-way collaboration with Senex scientists offering expertise in drug discovery and drug development and South Carolina scientists using Senex's compounds as tools for biological research," Roninson said, citing the state's entrepreneur support program, SC Launch, as another appealing factor about relocating.

Roninson's principal interests in academic research include:

Developing personalized cancer therapy based on target and drug discovery through functional genomics

Functional genomics of aging and longevity

Chemical genomics of tumor microenvironment

Mechanisms and pharmacological modulation of a damage-inducible signal transduction pathway implicated in cancer, Alzheimer's disease and viral diseases



He has led an interesting life. His grandparents moved to Moscow just ahead of 1913 pogrom that wiped out one side of his family before the other side was obliterated in the Holocaust. He became interested in finding a cure for cancer when he was 5 because he lost his beloved grandfather to the disease. A history buff, he decided to pursue science instead of history to further that goal (even though history and ancient art remained his lifelong passion). A graduate of Moscow University, his family emigrated from the Soviet Union after an anti-Jewish purge led to his father's firing from the symphony orchestra.

One of his heroes growing up was Lev Zilber, who discovered in 1937 that Siberian encephalitis virus is transmitted by ticks; Zilber was later imprisoned in the camps of the Gulag, where he continued to advance science using rats caught by his fellow inmates. Expanding on this wildlife hunting approach, Roninsondefends "fishing trip" experiments in science, even if they are not the kind of hypothesis-driven research popular with funders.

In a 2005 issue of Cancer Biology & Therapy, he wrote "Over the years, I came to believe that the insistence on funding solely or primarily hypothesis-driven research has done great harm to our biomedical enterprise," in an essay that cited a 19th century socialist, a Russian horticulturist, a Greek orator, Freud, the BBC and Voice of America.

An interesting man, indeed.
About the SmartState Program
The South Carolina SmartState(tm) Program (previously known as the CoEE Program) was created by the South Carolina legislature in 2002 and is funded through South Carolina Education Lottery proceeds. The legislation authorizes the state's three public research institutions, Medical University of South Carolina, Clemson University and the University of South Carolina, to use state funds to create Centers of Economic Excellence in research areas that will advance South Carolina's economy. Each Center of Economic Excellence is awarded from $2 million to $5 million in state lottery funds, which must be matched on a dollar-for-dollar basis with non-state investment. To date, 49 Centers have been created and 35 SmartState Endowed Chairs have been appointed to lead the centers. The SmartState Program has resulted in more than $375 million dollars in non-state investment into the South Carolina economy and is responsible for the creation of more than 4,700 jobs. Visit http://www.SmartStateSC.org .