MUSC's Children's Hospital opened the After Hours Care clinic at 2750 Dantzler Drive in North Charleston July 22.
K. Drew Baker, M.D., After Hours Care clinic's medical director, said children have special medical needs and are best treated by professionals trained to work with children.

According to Baker, the clinic fills the unmet need of medical services specifically geared to children available in the evening and on weekends and holidays.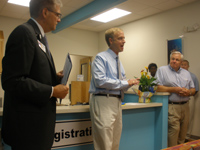 Dr. K. Drew Baker explains how the new pediatric After Hours Care clinic compliments other pediatric medical services to a crowd gathered for the grand opening Friday, July 22. The clinic is located off Highway 78 (behind Zaxby's) in North Charleston.

The clinic will be open from 4 to 10 p.m. weekdays, and from noon to 7 p.m. on weekends and holidays.
Clinic staff members are available to deal with childhood ailments, such as sore throats, ear infections, injuries and asthma. The clinic also has an onsite X-ray capability to diagnose broken bones and fractures.

MUSC Children's Hospital administrator John Sanders said this is a chance for the families of North Charleston, and Berkeley and Dorchester counties to have access to the Children's Hospital. "This program also supports the pediatricians and primary care physicians of the area."

For information, call 876-2220 or visit http://www.musckids.com/Afterhours.