By Cindy Abole
Public Relations

In an effort to provide better health outcomes and lower health care costs, MUSC's Department of Family Medicine joined an elite rank by becoming a Patient Centered Medical Home (PCMH).

Bill Hueston, M.D., professor and chairman, Department of Family Medicine, said the model's multidisciplinary approach offers better, more interactive health care. This past spring, MUSC Family Medicine achieved a level 3 (the highest designation) PCMH rating by the National Committee for Quality Assurance (NCQA) utilizing the Physician Practice Connections program.

The PCMH program evaluates practices, tools and systems to certify that they meet the NCQA standards for ensuring that children, youth and adults receive comprehensive primary care services.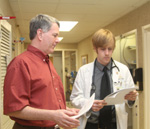 Family Medicine director Dr. Bill Hueston, left, reviews a patient's chart with third-year medical student Guillermo Rivell at the MUSC Family Medicine Center in downtown Charleston. Left photo: Apothecary show globes, right, grace the counter at MUSC Family Medicine Center's pharmacy, a symbol of a return to old-fashioned values.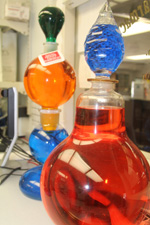 "With the complexity of health care today, it is just as important to coordinate care as it is to deliver care," Hueston said. "What many patients need is for a practice to develop systems that are responsible for collecting, interpreting and sharing patient information that can help coordinate care among all the patient's providers. Having a system and team who can do this frees up physicians' time to focus on patients with chronic disease, their management and care. This is the concept behind the patient-centered medical home model."

This model embraces a multidisciplinary team approach by relying on physician assistants, nurse practitioners, medical assistants and others. It also challenges programs to invest in information technology, electronic medical records systems, e-prescription management and same-day scheduling to transform and modernize family practice medicine, according to Hueston.

Medical information and results (medications, vitals, lab work and specific etc.) are organized in a patient's electronic medical record for health care specialists to access and review at any time. The system not only manages information, but has proven to improve work flow efficiency, reduce staff workloads and provide more quality time with patients. Patients and physicians rely on phone calls and e-mail to communicate using a secure, private web portal.

"Patients like having an open access to communicate with their physicians. It's quick, effective and fits into both the patient and physician's daily schedules," Hueston said.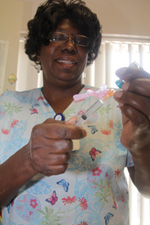 Immunization nurse Stella Seels prepares a vaccination. MUSC Family Medicine Center provides a full scope of family care services including vaccinations.

This systems-view approach to health care is of particular interest to Hueston, Peter Carek, M.D., professor, Department of Family Medicine Residency Program director, and Allison McCutcheon, quality coordinator in the Department of Family Medicine. Both physicians are familiar with early PCMH concepts as was proposed in the 1980s by pediatricians to help manage vulnerable and disabled children's medical care, and again in 2000 when industry giant IBM teamed up with the American Academy of Family Physicians and American College of Physicians to evaluate the efficacy of the PCMH model to address rising health care costs.
Hueston, Carek and McCutcheon feel their department is already ahead of most other primary care practices in valuing PCMH models through the use of processes and tools such as ongoing registries, a health maintenance reminder system and various community-oriented primary care projects. The department's focus on quality and service has always been a part of Family Medicine's philosophy of practice.

"Our physicians are already proactive with patients under their care. They're already aware of what's going on with their patients long before they arrive for an appointment," said Carek.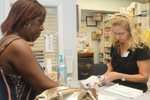 Pharmacist Laverne Smith, right, reviews medication details with patient Marlene Cromwell at the downtown location. The MUSC Family Medicine Center downtown features a number of services including a full-service pharmacy.
The department's focus on high quality care extends even to residents who train in the department. The residency program supports several resident quality improvement projects where resident-physicians, working in small groups under the guidance of a faculty mentor, develop a systemwide intervention project (i.e. diabetes blood sugar management, hypertension, etc.) to improve upon a clinical problem.

"What's key is that our residents are given dedicated time to focus on a quality improvement project that's important to their training," Carek said. "We've giving our residents the tools and experiences and they're using them."

What's new in family medicine resident training is integrating PCMH concepts into the curriculum. By doing this, the program is able to prepare the next generation of practitioners giving MUSC's family medicine physicians an edge among other professionals.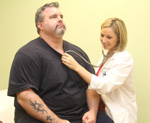 Third-year family medicine resident Dr. Emily Bush listens to the heart of patient Michael Beirne during a recent visit to the University Family Medicine office in North Charleston.

Family Medicine's road to success with PCMH is part of a multi-year coordinated effort.

According to Hueston, the department has done everything needed to prepare for these transitions. "The future of health care is not just about how much you can do, but how well you do it. When health care focuses on coordination and collaboration in care, we can improve quality and outcomes for patients. I'm hopeful for good change. We all need to work together to get there."

For information, visit http://www.musc.edu/dfm/.