By Dawn Brazell
Public Relations

Indiana Jones, move over. MUSC has its own globe trotter searching for international finds. With a treasure trove of barks, plants and fruit extracts stashed on shelves in his laboratory, Michael J. Wargovich, Ph.D., loves roaming the globe in pursuit of natural plants and products that may hold clues to prevention and treatment of cancer.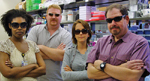 Researchers Vondina Moseley, Dr. Jay Morris, Becky Weber and Dr. Michael Wargovich strike a pose in their lab.
The ethnobotanist, who recently finished submitting six grants in two weeks, is a professor of cell and molecular pharmacology at MUSC, and has a wait list of students who want to work in his laboratory. Arriving at MUSC four years ago after 15 years at MD Anderson Cancer Center in Houston, Wargovich has been a chemoprevention researcher for more than 20 years. He started with pharmaceutical drugs and then moved to dietary compounds after noticing interesting associations with what people eat in other areas of the world and lower incidences of cancer.

His work studying West African plants for specific kinds of anticancer activity, especially COX inhibition, on colon cancer cell lines recently was featured in the latest National Cancer Institute's overview of promising research in complementary and alternative medicine.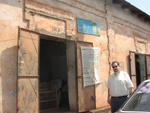 Dr. Michael Wargovich visits Kankan, Republic of Guinea, where he collected 15 medicinal plants.
Wargovich's interest in ethnobotany got a boost when he went to the Republic of Guinea, West Africa in 1999-2000 because of research being done by his wife, Joan Cunningham, Ph.D., a breast cancer researcher and epidemiologist who now works at MUSC. While there, he met a traditional healer who had a detailed book of all the medicines they had derived from natural plants in that region.

"I felt like Indiana Jones who had been given the key to the city. I asked them if it would be possible to get some of those plants, and they said sure, no problem, and that started it. We brought some of those plants back," he said pointing to bins stored in his lab. "One plant we found has a natural pain reliever and those are strongly associated with reduced risk for cancer."

The hope is that some of these natural compounds can reduce inflammation with the effectiveness of nonsteroidal anti-inflammatory drugs but without the toxicity and side effects that have required the drugs to be pulled off the market or be limited in use because of side effects. The bark of the Senegal mahogany tree, for example, has a natural compound that works similar to Celebrex, and he hopes to secure funding to get the bark from Australia for study.
Wargovich said it's interesting to note that many research studies suggest that advanced, affluent nations have increased risks for cancer.

"I don't believe that's entirely true, but what is true is that many of the cultures that we believe are protected from cancer and other major diseases may be protected because naturally in their diet and culture are anti-inflammatory compounds. We're not built to handle the high calorie and high carbohydrate foods we take in every day, so this sets up a long period of inflammation."

Diet Connection
Researchers are excited about making the link between this long-term inflammation and how it sets the stage for such diseases as cancer, heart disease, obesity, Alzheimer's disease and basically any disease that has an "itis" at the end, he said. He has talked with his international colleagues who live in places that naturally have diets rich in anti-inflammatory compounds. His colleagues worry that as their cultures westernize and more fast-food options arrive that certain disease will increase.

They have reason to worry. "All the diseases I mentioned before are on a huge upswing."
Wargovich holds up a bin of Khaya senegalensis leaves and bark. Known as mahogany tree, the plant may contain anit-inflammatory agents. To view a video on Wargovich, visit http://bit.ly/MUSC_Wargovich.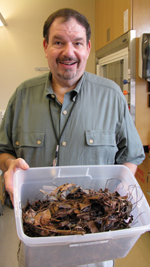 Asked routinely what foods cause cancer, Wargovich said the more interesting question to him is what have we removed from our diets that was potentially protective during the last 100 years. One research area he's excited about is investigating how green tea and vitamin D act in conjunction as combatants against inflammation.

There is a relationship with some diseases and how far north a population lives, such as in the case of colitis or inflammation of the colon that affects 2 million Americans each year, he said. The farther North, the more the prevalence. What researchers are finding is that patients who have this disease generally have very low levels of vitamin D in their blood.

"As our culture has moved indoors over the years, most of us are chronically low. Vitamin D is the lock and key that controls inflammatory processes. Everything in molecular biology seems to be a switch. It's on or it's off. For instance, in cancer cells, they corrupt this inflammatory pathway to survive. They do that by turning off the genes that control inflammation. The discovery we've made in this lab is that one of the compounds in green tea can actually turn the control genes back on to control inflammation."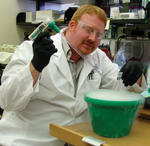 Dr. Jay Morris studies green tea polyphenols.
Wargovich compares it to a car that has lost its brakes. Cancer cells use gene silencing to be able to cut through the brakes and accelerate through the body.

"What green tea does is put the brake system back on line, to put it simply, which is a very exciting hypothesis that we're pursuing in the lab. We think if the green tea compounds make the vitamin D receptor more capable, then it's going to be more receptive to having vitamin D coming in from other sources."

Another promising area involves exploring food extracts from South American fruits that few Americans have even seen. He holds up a sheet with some of his favorites, including pitahaya, carambolo, borojo, uchuva, naranjilla and others. Many South America areas have diets that feature native fruits and juice drinks that are packed with anti-inflammatory compounds. "A lot of them are in the passion fruit family. They are the most remarkable, wonderful tasting fruits you could ever imagine."

Garden Delights
Down the road, Wargovich hopes to work as part of a team to develop a cancer prevention cuisine, a "culinary experience" for outpatient cancer patients featuring food that is loaded with herbs and spices. People will not change their diets to reflect a developing world's type of diet, but they will take the bits and pieces that they like, he said. The concept is let's put these things into something that people will find readily acceptable with scientifically proven compounds.

"I think it's a great concept. Imagine if you came to a cancer center and instead of being told to eat healthy, you're given an actual meal plan with ingredients that have been studied scientifically. There's a spice from the Indian culture that's extremely exciting called tumeric. Why not have stews or hamburgers with turmeric in them? Why not have a chef's mind go wild in creating a culinary experience with turmeric?"

An avid gardener, Wargovich glows as he describes the idea. Everyone in Wargovich's lab participates in community-supported agriculture and Wargovich looks for ways to adopt the healthy habits of other cultures. He grows stevia, perilla, basil, mint and other plants at home and drinks tea every day, he said.

"I love gardening, but I'm a cancer researcher, so this field lets me marry them together."
5 Top Tips from Wargovich to Create a Cancer Prevention Diet

1. Go Local.
We're really driving home the vegetable-based diet and locally grown. We depend too much on things coming from all over the world and who knows how long it has been in transit.

2. Go Natural.
Take advantage of anything that is natural – especially beverages. From a chemistry point of view, any kind of tea is good. Try different fruits and look for color.

3. Spice it Up.
Really think about herbs and spices. These are outrageously high in antioxidants and anti-inflammatories. Garlic and cinnamon and clove – turmeric – all those things that have a little bit of buzz and a taste to them – that's a chemical signal that there's something pretty potent in them.

4. Take the Long View.
There's no quick fix here. When I talk about exposure to teas and vegetables, that needs to be daily. The preventative effect of food comes from long-term, consistent exposure to healthy foods.

5. Find Balance.
It's OK to enjoy the foods you like to enjoy, but balance it off knowing there's a cost to it. If you enjoy yourself today and you know those foods aren't that healthy, then tomorrow do something else. For those of us who study cancer, the whole disease is something out of balance. It breaks all the regulatory bonds that keep it from spreading.