Department
Hospital Administration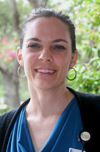 How long at MUSC
1 year, 10 months
What is in your CD player
Mottafapotta and Regina Spektor

What do you do on a rainy day
Take a nap

Best thing about living in Charleston
The food

Dream vacation
Anywhere with clear, blue water

Who in history would you like to meet
My grandfather on my mother's side. He died when I was 5.
Favorite saying
Suck it up and quit whining.

Did you know...
I have lived my entire life in South Carolina. Half of it in the Upstate and the other half in the Lowcountry.
Pets
Dillon (Great Pyrenees) and Mama Kitty (Tortoiseshell cat)

Friday, Aug. 26, 2011