By Cindy Abole
Public Relations
For more than 25 years, MUSC's University Press has provided the MUSC community a full range of printing services that support the university's clinical, research and academic missions.

University Press has evolved into a one-stop shop providing offset and digital printing services, binding and finishing, document services, publications design and customized materials for the MUSC community and its customers. It is managed by Jim Corr, who came to MUSC in 2008 as part of the department's restructuring.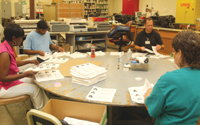 University Press' North Charleston production employees pitch in to assemble pages in a College of Medicine student booklet. They gather around a turntable device, which is used for short run, saddle stitch projects.

"Our strategic plan was to provide graphic design and printing excellence to all colleges and hospitals at MUSC," Corr said. "This included providing a powerful web presence."

Kathy Brower of the Medical Director's Office and liaison to the hospital's medical forms committee, and Geoff Cormier, University Press' graphic design supervisor, worked closely to put forms onto its website. This included reviewing specs, copy, form construction and pricing. These items are the OTC-700, 800 and UP series forms. Cormier and his team created and established a secure, interactive dashboard to allow users to access its library of 900-plus forms and project templates to order items or create and validate customizable jobs.

"Periodically, personnel were using incorrect documents and outdated forms with some breaching confidentiality and information security issues within the hospital," said Brower. "There collaboration was the perfect situation for both of us."

University Press helped reorganize materials and move them to a digital PDF format making it easy for staff to access the forms and process reorders.

For the past three years, College of Medicine curriculum and educational technologist Inda Johnson and associate dean for curriculum-basic sciences Debra Hazen-Martin, Ph.D., have worked closely with Corr and University Press to prepare and print its 1,000-plus page syllabus and course pack for 350 of the college's integrated curriculum (first and second year) medical students. This year, Johnson submitted the job electronically on Aug. 11; a final job proof was prepared and sent back to Johnson for validation by Aug. 15; and the project was delivered on campus by Aug. 19.
According to Johnson, they've been very happy with their working relationship with University Press. "Staff are very helpful and supportive; the quality work is exceptional; and turnaround time is quick and timely for us," she said.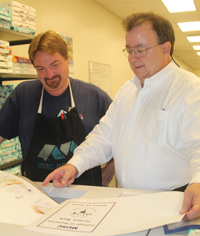 Gordon Knight, left, and Jim Corr review a print project from the Xerox 1000 color printer. Visit https://universitypress.musc.edu/musc/Login.aspx.
Corr divides his time between the graphic design office at the Bee Street Parking Garage and University Press in North Charleston. Corr works with an experienced team of two graphic designers (Bee Street) and eight press area employees, who have more than 170 years of print and design experience between them.

In addition to the black and white and color print services, University Press can customize projects such as business cards, campus envelopes, business forms, mailing labels, notepads, pocket folders and supply paper stock (8.5 x 11-inch paper and 11 x 17-inch paper, blank NCR paper, tamper proof prescription paper and letterhead stationery). They also can produce tri-fold brochures, annual reports, note cards and invitations.

Since 2008, University Press has experienced an 8 percent growth in revenue, allowing them to reinvest in themselves through newer technologies and upgraded equipment. According to John Runyon, Busimess Services manager, because of reduced services University Press has been able to take on print jobs for other state institutions and agencies including The Citadel, College of Charleston, State Ports Authority and others.

Corr said the selling strategy is simple.

"We give the customers what they want, when they want it at a competitive price. Regardless of order sizes, every order is important to us because these orders are important to our customers."
For information on printing services, call 792-8866.
MUSC University Press
Graphics Design (Bee Street) — Geoff Cormier, and Audrey Czwakiel; Printing Services (North Area) — Gordon Knight, Eric Cooke, Roger Brownlee, Felecia Legare, Alfred Bryant, Curtis Brown, Percilla Coaxum and Sandra Parker; Manager — Jim Corr