Editor's Note: Chelsey Baldwin of Little River is a second-year medical student. This column follows the journey of her class in becoming doctors.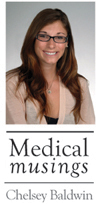 It has felt like the hottest summer ever. I haven't checked the records or anything, but I have contemplated the supposed record highs each day as I trudged through campus in the sticky humidity.

Every day, similar routine: throw down my million bags I've decided to carry, pant in my office for five minutes, which isn't really my office, just one that I have taken over for the summer, wipe down the sweat with the sweatshirt I'll be shivering in 30 minutes later, and finally go see what Adrian is up to.

Adrian Parker, research coordinator for radiology/neuro-interventional, sits in the office next to mine. This is extremely convenient because Adrian is my access to all data and happens to be entertaining to sit next to as well.

"Tell me if I'm crazy," I preface my latest idea for presenting the data I've collected. The first step is always bouncing ideas off Adrian. The next step is translating Adrian's response into either "yes, you are indeed crazy" or a "run it by Turk" answer. Dr. Aquilla Turk is my mentor for my summer project and usually my next stop when playing with a new idea. Turk's advice usually consists of finding a smaller focus, a notion I've been fighting since spending over a month on data collection. I secretly want to use it all in some cleverly interwoven enormous argument, but that isn't the way it's done. I spent a good amount of time this summer in the Summer Health Professional Program being acquainted with the way that research is done.

During one such attempt to direct my work, Dr. Turk received a phone call about a case that had just arrived in the Emergency Department (ED) involving a patient who had experienced a stroke earlier that morning. Dr. Turk was asked to take a look at the computed tomography scan (CT) of the patient's brain. I began to vibrate in my seat. While my research has been focused down to treatment of small aneurysms, I was aware that Dr. Turk and his colleagues use endovascular approaches to treat stroke victims as well. The thought of clicking through medical records while this case was going on was nearly unbearable.

Before Dr. Turk could finish explaining why our meeting would be cut short, I had already interjected, "Can I go?" I followed Dr. Turk to the control room where he scrolled through the images of the stroke patient's brain. While I'm far from an expert in determining meaning of these images, the sighs and shaking of heads when a large dark area comes across the screen indicates that we have reached the region of infarct. It was decided in the control room that the infarct wasn't significant and that Dr. Imran Chaudry, a partner of Dr. Turk, would take the case.

Scared of being left to my record scrolling, I look back and forth between Turk and Chaudry. Turk notices me, "Oh yeah, take Chelsey." With a grin, I run off to go grab my white coat and stuff its pockets with my note pad, pens and anything else on my desk that will fit.

Dr. Chaudry, Dr. Eric Nyberg, the new endovascular fellow, and I make our way down to the ED. The first room we enter is a rather small control room.

One side of the control room is made of glass, through which I can see the patient lying in a CT machine. Dr. Chaudry and another attending physician discuss and agree upon the endovascular approach for treatment.

Once consensus is achieved among the physicians, the tiny room begins to clear out and I am able to approach the screens displaying the latest state of the patient's brain.

Chaudry points out vessels to me. "Do you see that there is a clot as low as the ophthalmic artery?"

One fact about the ophthalmic artery that has stuck with me is that it's the first branch of the internal carotid, therefore I considered it to be a pretty detrimental location for blood flow to have stopped. I look from the patient on the table on the other side of the glass, he is conscious and appears to comprehend commands, and then back to the image of his blocked internal carotid artery, slightly puzzled. Days later I was reminded by Dr. Turk that the patient's condition was possible because a clot on the right internal carotid will not greatly affect the left side of the brain where speech and speech cognition are located.

As we finished looking through the newest CT, the patient was being moved back to main area of the ED, so we followed to obtain consent for the upcoming procedure.

After the patient signs, Dr. Nyberg brings the form over to me, "See how he only signs on the right-most portion of the line?" I nod; I had learned about one-sided neglect due to impaired brain function in the past year and saw how the signature was crammed to one side of the designated line. After the patient made it upstairs to the angio-suite for his procedure, I resolved to go back to my research. Back in the quiet, calm of my office I sighed and reluctantly restarted my data collection.

This is not to say that I don't enjoy research. Sifting for data points can seem extremely monotonous, especially compared to the excitement of the ED. However, pulling my data together, running analysis and drawing conclusions was a process I enjoyed.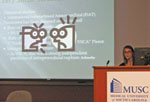 Chelsey Baldwin presents her research, "The Treatment of Cerebral Aneurysms: Does size matter?" July 28 during the final presentations of the Summer Health Professional Program.

In my research project, I was primarily looking to see if the rate at which patients came into MUSC with very small cerebral aneurysms (smaller than 4 mm)that had ruptured seemed to dispute the existing literature that suggests that this size aneurysm essentially ruptures at a non-significant rate.

I remember recounting for a friend that in these final phases I felt like I was doing something that would matter. If I am able to effectively display that ruptured very small cerebral aneurysms are as clinically significant as any other size, it may persuade other physicians to treat this size of aneurysm as aggressively as larger aneurysms.
I gave my best attempt to cram my findings and state my conclusions in a 15-minute presentation at the end of July. The presentation really served as a good bench mark in my attempt to convey my findings; however, it is far from the end point. I hope in another year, I'll have a published paper to show for my work this summer.