There's no place like home. That's what third-year pharmacy student Casey Clark found when she started classes at the S.C. College of Pharmacy's new Upstate campus in Greenville.

The college officially welcomed the inaugural class Aug. 17 with 17 third-year pharmacy students transferring to the new campus at Greenville Hospital System University Medical Center (GHS) – a new site for the statewide public pharmacy college. MUSC and the University of South Carolina are founding institutions of the S.C. College of Pharmacy (SCCP), which was formed in 2004 when the universities' two independent pharmacy colleges integrated.

Clark, who has been enjoying the beaches and MUSC campus, said she welcomes the change because of her extensive family ties and her career goals of working as a hospital pharmacist in that area. This will make it easier for her to network and make relationships at places she'd like to work, she said.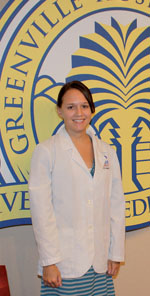 Casey Clark is closer to home now that she's part of SCCP's pharmacy class in Greenville.

The space is high-tech, and she likes the smaller class, where everyone really can get to know each other, she said.
The Upstate campus, which received accreditation approval this past summer, was created to better serve pharmacy students living in the Upstate and give students and faculty better access to health outcomes research.

Joseph T. DiPiro, PharmD, SCCP executive dean, said the opening of the campus marks the college's arrival as a statewide institution. "Our students have regional access to resources from a major academic medical center, a comprehensive university and a large, progressive hospital system."

GHS has been involved in pharmacy education for more than 10 years, serving as a clinical rotation site for hundreds of fourth-year pharmacy students. In 2005, GHS announced it would invest $5 million over 10 years to help expand and promote pharmacy education in the Upstate. Fast forward to 2011, and pharmacy students are preparing to receive onsite didactic and clinical training from 16 clinical pharmacists at GHS, who also serve as part-time college faculty members.

The Health Science Education Building where the program will be housed in 2012.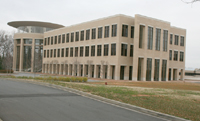 GHS President and CEO Mike Riordan said it's an exciting time for GHS and the Upstate community. "Today we celebrate the opening of the new S.C. College of Pharmacy campus here at GHS, and a year from now we look forward to the possibility of celebrating the first class of students admitted to the new University of South Carolina School of Medicine-Greenville," he said.

"We also know that medical students are likely to stay where they train, and it's our hope that these pharmacy students, and other medical students training at GHS, will remain in the Upstate long after they've completed school."
SCCP enrolls a total of 760 students, or 190 per class, with 110 on the Columbia campus and 80 on the Charleston campus. Up to 25 total students entering their third year have the option to transfer from either campus to the new campus at GHS. A full-time SCCP Upstate regional director and GHS faculty, along with part-time faculty at Spartanburg Regional Healthcare System, provide student advisement.

During their third year, SCCP-GHS students will receive the same curriculum as SCCP students at the other two campuses and will use distance education technology to supplement local instruction. Typical courses include pharmacotherapy, clinical pharmacokinetics, clinical assessment and clinical applications.

In their fourth year, SCCP-GHS students have the opportunity to stay in the Upstate for the nine, one-month rotations that comprise the entire fourth-year curriculum, covering areas such as internal medicine, drug information, critical care, infectious disease, neonatal intensive care, pediatric intensive care, psychiatry and primary care.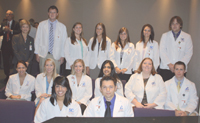 The first class of third-year pharmacy students at GHS.
SCCP offers approximately 300 rotations each year in the Upstate, with nearly 100 of those available at GHS. Other SCCP partner institutions include Spartanburg Regional Healthcare System, Bon Secours St. Francis Health System, Self Regional Memorial Hospital and AnMed Health, as well as community pharmacy partners in the Upstate.

In total, the college offers approximately 2,100 rotations annually, primarily in South Carolina but also around the country and internationally.

The new campus couldn't come soon enough for pharmacy students like Mary Lawson, a mother of two living in Spartanburg.

"The first two years were pretty hard spending nights apart in addition to all the studying, so my family and I are super happy we will be all back together again," said Lawson, who spent her first two years of pharmacy school splitting time between home and Columbia, where she attended classes on the SCCP-USC campus. "This year I will be in class every day, and I think the small class, getting to know professors and staff better, and being caught up in all classes will really be a great help."