The university's Finance & Administration Division recognized staff from the Engineering & Facilities, Finance, and Operations departments who were nominated during the fourth quarter for their commitment to MUSC Excellence.
University F & A Employees of the Year, PEER award

Lisa Montgomery, center, vice president, Finance & Administration, congratulates Rosalind Giddens, left, and Diane Campbell. Giddens, University Purchasing Services, received the Employee of the Year for University F & A and Campbell, University Mail Services, was selected as the Cindy Garmon PEER of the Year winner.
Employees of the Quarter
Lester Dempsey, Zone 4, Engineering & Facilities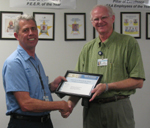 Lester Dempsey, left, accepts his plaque of appreciation from George Summerford, building engineer.
"Lester has served as project manager for several renovation projects at the Wellness Center during the past few months. During this time Lester has functioned well above his normal job responsibilities. Lester has promoted the principle of excellence many times over. He has worked through the night on many occasions to ensure there were no problems. He has personally made sure that all work was conducted above our expectations. He ensured that all work was not only completed on time, within budget, but most importantly that the quality of the work exceeded our expectations."
Nominated by Bobby Shaw, Student Health, Wellness Center
Mark Trauger, Pubic Safety


"On the night of June 8, I arrived at the Hagood parking lot at 11:30 p.m. to find my car had become jammed on the concrete space divider in my spot. I could not back up or go forward and was quite unsure what to do. Officer Mark Trauger came to my aid. He went so far as to jack my car up in an attempt to help get it free. He worked for at least 30 minutes with my car on his hands and knees with not much light and in a rather warm temperature. I did not at all feel like my situation was a nuisance to him, though I am sure what he did was not in the job description. He easily could have shrugged his shoulders and walked away. I see this as an example of going the extra mile and for that I am very grateful. One of the things I love about working at MUSC is being able to interact with professionals who not only do their jobs, but do them with a great attitude."
Nominated by Mary Riddle, Transfusion Services