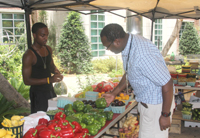 Hollings Cafe chef Antonio L. Robinson, right, selects fruits and vegetables from Larry Creel's Farm at the Hollings Cancer Center's (HCC) farmers market. The market is held from 10 a.m. to 5 p.m. every Thursday in the Pearlstine Garden at HCC.


PEOPLE
Michael Caplan



Michael Caplan, M.D., associate professor, rejoined the Department of Pathology and Laboratory Medicine after two years in a private practice in Michigan. Caplan is board-certified in anatomic and clinical pathology and subspecialty boarded in forensic pathology and pediatric pathology. .

G. Donald Frey
G. Donald Frey, Ph.D., professor of radiology, has been appointed as the American Board of Radiology's (ABR)new associate executive director for medical physics. Additional duties at MUSC include service on the radiation control council and the university safety committee. Established in 1934, ABR serves patients, the public, and the medical profession by certifying that its diplomates have demonstrated a requisite standard of skill and understanding essential to the practice of diagnostic radiology, radiation oncology and radiologic physics.



Ana Marie Medina
Ana Marie Medina, M.D., joined the Department of Pathology and Laboratory Medicine as an assistant professor. Medina is board-certified by the American Board of Pathology in anatomic and clinical pathology and subspecialty boarded in cytopathology and hematology.

Gail Stuart


College of Nursing Dean Gail Stuart, Ph.D., R.N., was selected to participate as a member of the newly established Measure Applications Partnership (MAP). MAP is a public-private partnership convened by the National Quality Forum for the purpose of providing input to the Department of Health and Human Services on the selection of performance measures for public reporting and performance-based payment programs.

Julie Woolworth


Julie Woolworth, Ph.D., joined the clinical pathology faculty. Woolworth is a graduate of Albion College and received her doctorate in cancer biology at MUSC where she served as a post-doctoral fellow under Omar Moussa, Ph.D. She also is a research instructor assisting Rick Nolte, Ph.D.


EVENTS
Faculty Orientation
The MUSC Faculty Senate and the Office of the Provost will sponsor the MUSC Faculty Orientation beginning at noon, Aug. 9 in Room A 204, College of Health Professions.

Children's Movie TIme
MUSC Transplant Center and Audio Warehouse will present the children's movie, "Rio," at 6:30 p.m. Aug. 9 in the Basic Science Building Auditorium. To make reservations, call Sara Stello at 792-8525.

Quiet Reflection
In observance of the 10th anniversary of 9/11, MUSC will commemorate the events that took place in New York, Pennsylvania and the Pentagon. As part of the commemoration, employees and students are invited to submit stories of strength and hope, thoughts or reflections of 9/11. Comments may be submitted online at
http://tinyurl.com/3uh86vq. Submission deadline is Aug. 19. Selected comments will be published in a printed program provided during the service at St. Luke's Chapel. The service will be held from 11 a.m. to 1 p.m. Sept. 9. The chapel will be open for a time of reflection with music provided by harpist Susie Hyman, and a series of framed pictures with photographs of those who perished on 9/11 will be on display. Also, a short non-denominational service, led by Chaplain Terry Wilson, will be held from 12:15 to 12:30 p.m.
WebLink
MUSC's Department of Dermatology and Dermatologic Surgery has collaborated with the Spa at Charleston Place in a melanoma awareness campaign. Visit http://www.youtube.com/user/CharlestonPlaceHotel?ob=5.