MUSC received a record $82.8 million in philanthropic gifts and pledges last fiscal year, according to year-end figures released by the university's Development Office.

The 8 percent increase in giving to MUSC was more than double the 3.8 percent growth rate reported by non-profits nationwide, as reported in a study published by the Giving USA Foundation in June.

During the year, the Medical University saw an increase both in the number of donors (11,110 vs. 9,938 in 2010) and the number of gifts (19,950 vs. 17,946). Most of the year's contributions ($45.6 million) came from foundations and non-profit organizations. Meanwhile, giving by individuals grew 21 percent, from $24.7 million to $29.8 million. Corporate giving totaled $7.5 million.

Notably, the sharpest increase in giving took place among individuals who did not graduate from the institution. That amount grew 42 percent, to $26.5 million.

Also during the year, the MUSC Foundation's investment portfolio achieved a 16.4 percent return, bringing the foundation's total assets to more than $400 million. These philanthropically- provided funds are used to pay for scholarships, endowed chairs, facility enhancements and a broad range of research, academic and patient-care programs. This spring, MUSC employees also were able to contribute to the Foundation's efforts through MUSC's internal Yearly Employee Support (YES) Campaign. This year's campaign netted more than $351,589.

Among the 13 programs in 2011 which have received YES Family Fund support is the Children's Hospital's Passages program, which received $2,500 in funding.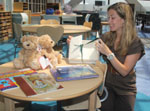 Child Life specialist Megan DeBolt displays items that support the Children's Hospital's Passages Program for bereaved families. Through YES Campaign Family Fund donations, departments can benefit from grants to support their programs.

Established in early 2000, the Passages Program operates under a bereavement committee as a service to assist patient families who must deal with the loss of a child. The program is led by Sheri Stewart, R.N., Children's Hospital Pediatric Pain Management and Palliative Care coordinator and committee chair, and a multidisciplinary team.
"Our goal is to assist families in the early stages of grief by helping them preserve the memory of their loved one. We're supportive to whatever's needed for the family to facilitate a healthy grieving process," said Stewart. "The YES Family Fund provides a means to continue a vital service for our bereaved families during difficult times."

YES Campaign funds have supported bereavement services and purchased items including child memory boxes, used to store personal items, a patient's hand molds and other supportive literature. Funds also helped purchase art supplies for art therapy, one-year anniversary remembrance cards and other sibling support including books and use of bereavement bears to help a child prepare and cope with the impending death of a sibling.

MUSC President Ray Greenberg, M.D., Ph.D., said the growth in philanthropic support has helped the university maintain consistently high standards of excellence, despite several consecutive years of cuts in state funding.

"These gifts are so important because they help us sustain momentum not only in our academic pursuits, but also in the life-saving medical research and patient care programs that benefit so many people in South Carolina and beyond," said Greenberg. "We are extremely grateful to the community for this support. It makes such a meaningful difference."

For information on the campaign, contact Whitney McLuen at 792-1073.